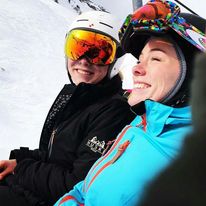 Best Dresses For Skiing: Ski In Style
Read Count : 44
Category : Blogs
Sub Category : Miscellaneous
There is an old quote that claims "There's no such thing as bad weather, only unsuitable clothing". Therefore, choice of clothes matters a lot to feel warm from within while skiing down the steep slopes. If you are going to ski for the first time, any wrong choice of dress could discourage you from trying this adrenalin-pumping sport any more.  

Many skiers, especially the first-timers, have no idea about what to wear for skiing. In this article, we will give some important tips on how to keep yourself warm and dry while skiing so that you can have a lot of fun and thrill down the slopes of mountains. 

What to Wear?
A ski outfit has two parts – a good layering and right kinds of accessories. In this article, we will talk about the first part only. 
Wearing a dress that has multiple thin layers will keep you warmer because warm air gets trapped between different layers. Layered dresses are more effective than wearing a heavy jacket that will only make you look like a Marshmallow Man. 

A minimum of three layers is usually recommended. And believe me, it will not make you look obese. These three layers are a base/lower layer, a mid layer and an upper layer comprising water-resistant salopettes and ski jacket. All-in-one ski suits are very much in fashion these days. Check if these can give you full protection in freezing cold. 

Layered Dress for Skiing
Base Layer:A good set of base layers is the primary line of your protection. These include long undergarments though they are meant to keep you dry, not warm. However, feeling dry will ultimately make you feel warm. 

These base layers are usually made of natural fibres or polyester like merino wool. This layer drives sweat away from your skin so that it can easily evaporate in a way that is called wicking. 

Synthetic base layers are cheaper than their natural counterparts. However, synthetic alternatives are more effective at wicking than the natural type. 

Mid Layer: A thin woollen or fleece-made jumper could easily slide between the base layer and the upper layer. You can don one or more jackets as a mid layer. There are plenty of ski-specific woollen or fleece jumpers but these are best suited to advanced skier. For the starters, it is better to use what they already have. 

Outwear:  The third layer or outwear resists the cold breeze from getting inside. A good quality ski trousers, also called salopettes, and ski jacket ensure that you always feel warm no matter whether it rains, snows or gusto of cold breezes is passing. One piece ski suit also serves the same purpose.