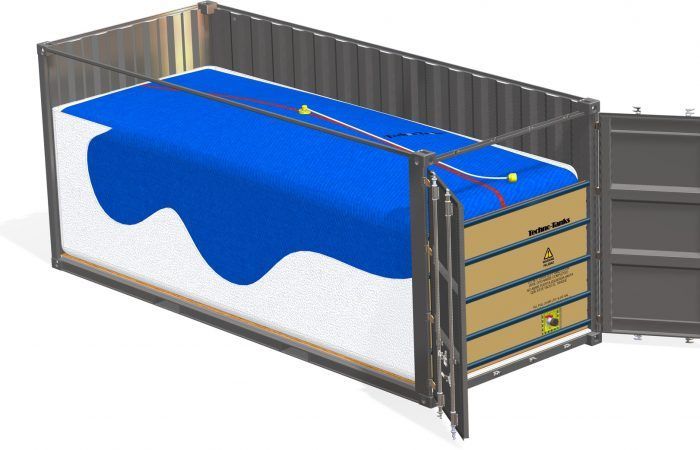 How To Ship Bulk Liquids On A Tanker With Flexibags
Read Count : 98
Category : Blogs
Sub Category : Miscellaneous
There are so many options as to how to move bulk liquids around the country, and even further afield. If you're looking for bulk liquid solutions that let you ship overseas, tankers are always a very good option. If you're looking at tankers for bulk liquid food grade transportation, then you'll want to consider using Flexibags. Here's what you need to know, and how they will benefit you. 



What Is A Flexibag?


Firstly, you need to know what a Flexibag is when you're looking into container liquid storage for shipping. Flexibags are a type of tank that's become very popular for bulk liquid food grade transportation in recent years. As the name implies, they are a large bag that can hold up to 24,000 liters of liquid, rather than a traditional rigid walled tank. 

They're typically made from polyurethane, and are filled through a nozzle in the top of the bag. They're placed in shipping containers before filling, and then sealed up and shipped out. 

Companies have started using these bulk liquid solutions as they offer a lot of benefits to them as a company. The main benefit is that they offer a much quicker solution than other tank types, making it much easier to ship out bulk liquids. 



How To Load And Unload A Flexibag


So how are Flexibags used? The good news is that you don't need a lot of staff on hand to get it loaded up and ready to go. It's also a lot quicker to get a Flexibag ready to ship out. Here's how they're loaded up ready to go:

Ready the shipping container: The shipping container needs to be inspected for any protruding nails or rough spots, which can be pulled out or covered with duct tape. Then, the whole container is lined with cardboard. 

Add the Flexibag: The container is now ready for the Flexibag. The bag is added to the container while it's still empty, with the corners secured down to the corners of the shipping container. The nozzle should be at the open end of the container. 

Fill the Flexibag: The Flexibag is ready, so now you can start filling it. This requires a hose and a pump to move the product in through the nozzle in the bag. The bag will expand to fill the space inside the container. 

Seal up ready for shipping: Once the Flexibag is full, you'll close off the nozzle, and shut the door to the container. Add the appropriate labels, and it's ready for bulk liquid food grade transportation. 

Unloading a Flexibag is just as simple, too. You'll open the shipping container, and again attach a hose to the nozzle to pump the liquid out. As the bag empties, you will need someone to push liquid up towards the nozzle using a long handled squeegee or broom. Once the Flexibag has been fully emptied, it's removed and recycled. 



The Benefits Of Using A Flexibag On Tankers


You can already see why a Flexibag is a great option for container liquid storage, as they're so easy to use. There are lots of other reasons why businesses are using them for worldwide shipping too, especially on tankers. Here are some benefits that you could take advantage of: 

No risk of cross contamination: This is something you'll always have to consider when you're looking at bulk liquid solutions, especially if you're moving food grade liquids. Regular tanks need to be cleaned out after use, and no matter how well they're cleaned, there's always a risk or contamination. 

As Flexibags are one use only, you'll never have to worry about this. You'll use one that's brand new, and you'll recycle it at the other end of the line so you won't have to wash or store them either. 

Easy to use: It's hard to overstate just how easy these bags are to use for bulk shipping. As they're filled up directly in the container, there's no extra handling that you have to do. You'll also need less staff to handle the job, so it makes it cheaper to use too. 

Tough and durable: Some will worry that Flexibags aren't going to be as robust as other forms of container liquid storage. While they are bags rather than rigid tanks, you'll be amazed at how durable they can be. This is thanks to their construction, which uses tough materials a multiple layer system. That ensures that leaks and tears are unlikely, so even on rough seas your shipment is safe. 

Ship more in less space: On a tanker there's going to be a finite amount of space, so you want to be able to make the most of it. Drums, barrels and IBCs work well but even when stacked closely, you'll still see that there's some space in between them. 

That's where Flexibags as bulk liquid solutions really come into their own. You'll be able to completely fill a storage container with product, as the bag will expand to fit. That allows you to ship much more in that container, and get the most out of that shipment. 

Using Flexibags on tankers allows you to really maximise the benefits of shipping in this way. They're easy to use, highly safe for the vast majority of bulk liquids, and cost effective too. If you're not already using them for bulk shipping, then you'll want to look into it now.