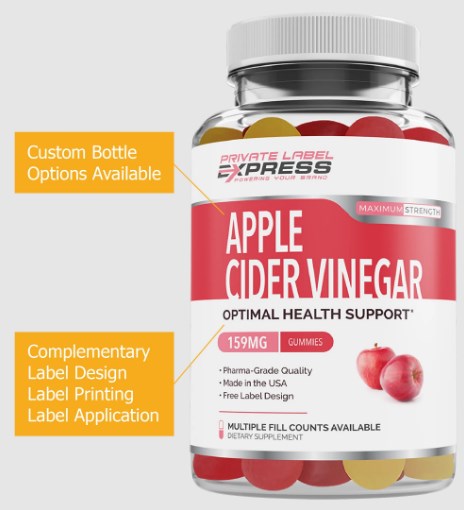 Private Label Express Is Now Offering 40+ Varieties Of Private Label Gummies:
Read Count : 86
Category : Blogs
Sub Category : LifeStyle
Exploring the Variety of Gummies Now Available from Private Label Express
Private Label Express, a US-based gummy manufacturer, is proud to announce the launch of its newest product line, offering more than 40 varieties of private label gummies. This new collection of products offers something for everyone, from apple cider vinegar supplements to multivitamin options and biotin supplements. With the rising popularity of gummy vitamins, this premium range offers consumers a great-tasting and convenient way to get the essential nutrients their bodies need.

Research has shown that searches for gummy supplements are seeing an upward trend, with hundreds of thousands of high intents searches every month. Consumers are looking for products that meet their specific needs, such as gluten-free, Halal, non-GMO, and vegan options, so Private Label Express has made sure to offer something for everyone in this wide variety.
The growing demand for gummies is driving the market forward, with projections expecting total global sales to double from $5.9 billion to over $10.6 billion by 2025. This surge in popularity can be attributed to both adults and children consuming chewable supplements to get essential vitamins and minerals into their diet. Additionally, the adult segment is anticipated to account for the largest share at the end of the projected period due to increased awareness regarding health benefits such as improved heart health or immune support provided by these products.

To ensure customers get quality products that work effectively, Private Label Express has extensively tested each variety before release on the market using only premium ingredients paired with high bioavailability rates. Popular items include apple cider vinegar and elderberry gummies, which have proven themselves amongst consumers while offering more niche options like BCAA or CLA gummies for those looking for something different.

With this extensive range, customers now have access to quality gummies backed by science which help them achieve long-term health goals easily and enjoyably – no matter what they're looking for! Popular items on offer include apple cider vinegar and elderberry gummies while there are also niche options like BCAA or CLA gummies available for those seeking something different including: 

•	Gluten Free
•	Halal compliant,
•	Non-GMO and Vegan-friendly options
•	Apple Cider Vinegar Gummies (ACV), 
•	BCAA Gummies,
•	Biotin Gummies, 
•	Calcium Gummies, 
•	CLA Gummies 
•	Collagen Gummies 
•	Cranberry Gummies
•	Diet Mixture Gummies
•	Electrolyte Gummies
•	Fiber Gummies
Other sought- after private label supplements include:
•	Probiotic Supplements 
•	Folic Acid Supplements 
•	Garcinia Cambogia Supplements 
•	Green Coffee Bean Supplements 
•	Immune Boost Supplements 
•	Iron Supplements 
•	L-Carnitine Supplements 
•	Magnesium Supplements 
•	Multivitamin Supplements
•	Omega 3 Supplements 
•	Prenatal Vitamin Supplements
•	Propolis Supplements 
•	Vitamin B12 Supplement 
•	Vitamin C Supplement 
•	Vitamin D Supplement 
•	Vitamin D3 Supplement.  

All products are backed by science to ensure the highest quality and effectiveness for your health and wellness needs. Shop now and get started on your journey towards better health with Private Label Express!