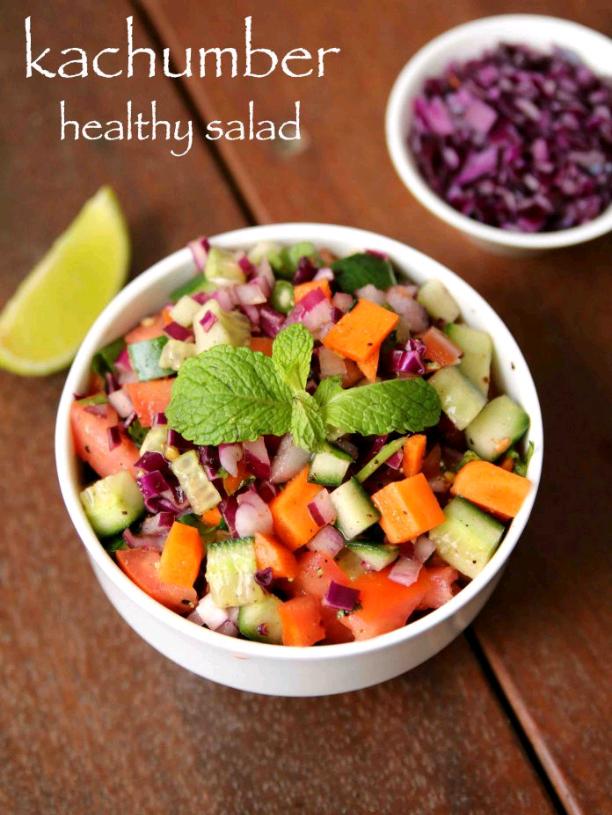 Kachumber Salad Recipe | Kuchumber Salad Recipe | Onion Cucumber Salad | Honey'z Corner
Read Count : 59
Category : Recipes
Sub Category : Appetizers
INGREDIENTS 


▢½ cup cucumber (chopped)
▢½ tomato (chopped)
▢¼ carrot (chopped)
▢2 tbsp onion (finely chopped)
▢2 tbsp cabbage (chopped)
▢1 tbsp coriander (finely chopped)
▢½ tsp pepper (crushed)
▢1 chilli (finely chopped)
▢½ tsp chaat masala
▢¼ tsp salt
▢1 tbsp lemon juice
▢1 mint / pudina leaf
INSTRUCTIONS
firstly, in a large mixing bowl take ½ cup cucumber, ½ tomato, ¼ carrot, 2 tbsp onion, 2 tbsp cabbage and 1 tbsp coriander.
also add ½ tsp pepper, 1 chilli, ½ tsp chaat masala, ¼ tsp salt and 1 tbsp lemon juice.
mix well making sure all the spices are combined well.
finally, serve kachumber salad / mix veg salad recipe garnished with fresh mint leaf.