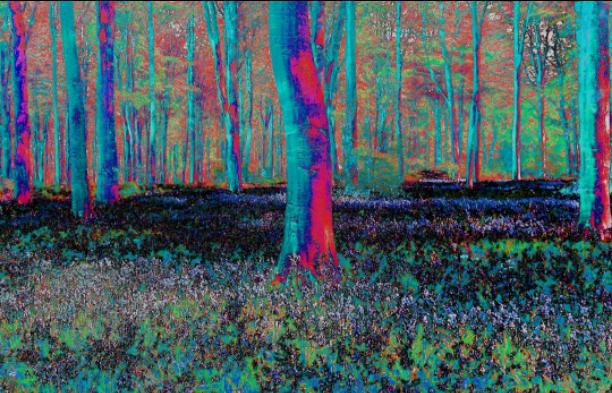 As Lsd Sung To Me
Read Count : 60
Category : Poems
Sub Category : N/A
The night showed me secrets in its secure plumage of darkness.




The petrified head crucified

on the wall above me

heard the key of the supposedly impossible in the soothing noise, because in his delusion to be a prisoner, he grew two legs like a Goat two Horns, what parasites! 




The head tries to get up and run,

but his rickety hull hits the wall 

and is thrown back at his old 

needle-chair each time my eyes opened twice while blinking.

For a second i really thought he had escaped like the rest of light as twilight is already seeking a quiet place to die.




But the full moon already called me,

his mystic light and shine burned on my gaze like ropes smeared in hot wax touching my bare, sensitive skin. 

The moon's a spider, the calming shimmer is silver, precious strings, curling the sky and the earth up into a astrological spiderweb. 




The old, familiar tree outside of my Window offered me a other side of its own avatar. A whole new level of intimacy.




The green fingers tore themselves off of the bony hands and bled a blacker hole into the already sinister sky. 

The universe opened a door, like a doctor to look at his Patient. 




The black hole's hunger became a threat to the tree. 

My window mutated into a Tv, but the program cut off as my eyes rolled uncontrollably like stones, and the pleasure of sleep was near. 

Maybe it was even the pleasure of death, because dying is orgasming when we experience life as the source of suffering.




My ghost slipped out halfway of my body, he found a breach in the wall of my right arm. 

This arm felt so lifeless, as if a corpse was resting on me. 

A corpse i felt comfortable cuddling with.




I pinched and scratched and touched that Bodypart, but i didn't move, didn't make a sound. 

A pack of eternity made itself a 

short-lasting home in the veins of that arm. 

But all good things come to an end, and life sunk its teeth into my arm, fire-like poison gave back feelings. 

I could punch, Scratch, pinch, cut and bite my arm and i would just remind myself of pain. I would just let another alarm for pain in my body scream.