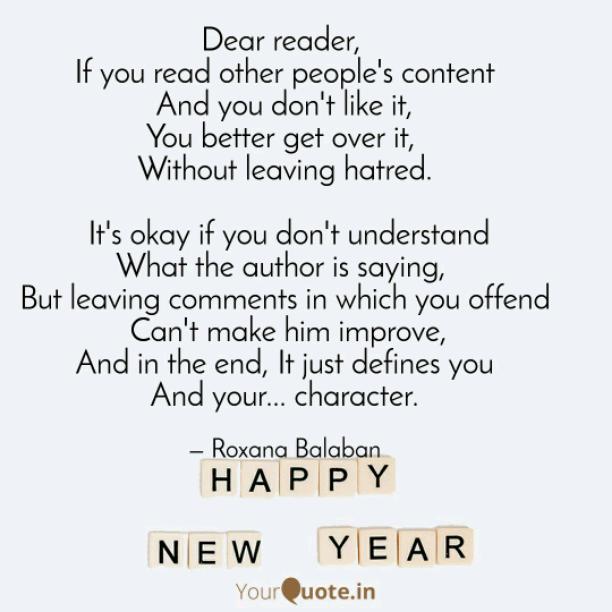 Dear Reader
Read Count : 21
Category : Poems
Sub Category : N/A
Dear reader, 

If you read other people's content

 And you don't like it, 

You better get over it, 

Without leaving hatred.




  It's okay if you don't understand 

What the author is saying, 

But leaving comments in which you offend

 Can't make him improve,

 And in the end, It just defines you 

And your... character.




  I don't understand why it's so easy 

To judge people you don't even know,

 Just because you read their stories and words.




  If you can't understand his pain, 

Leave him alone.  

If you can't help it, 

At least, try to be silent. 




 We want a better world, 

But no one makes any changes.

We think we are omniscient, 

But in fact we lack the kindness 

And good words inside of heart.




Another point of view should not be said

 As the greatest truth.

A comment in which you explain nicely, 

Is much more valuable 

Than one written with bad words.




Every man has his own way of writing, 

Maybe it doesn't always match

 The feelings of the readers.

But if you don't have nice words to say, 

You better leave that man alone.