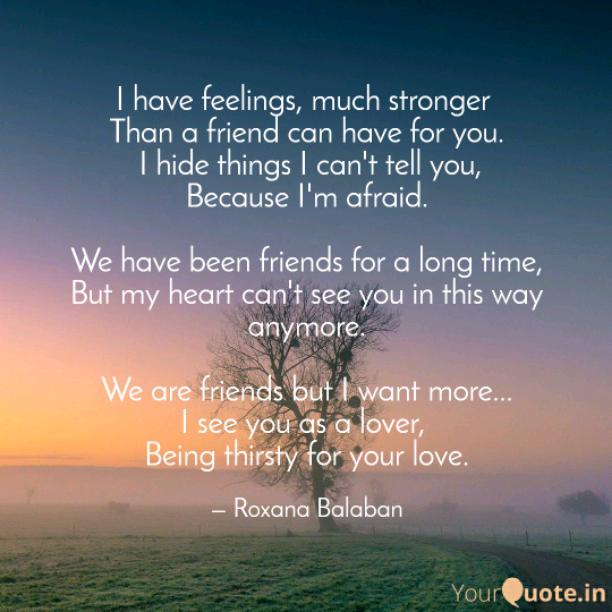 More Than A Friend
Read Count : 62
Category : Poems
Sub Category : N/A
I have feelings, much stronger 

Than a friend can have for you.

 I hide things I can't tell you,

 Because I'm afraid. 




 We have been friends for a long time, 

But my heart can't see you in this way anymore.




We are friends but I want more...

I see you as a lover, 

Being thirsty for your love.




  My lips should be free to kiss you,

 My arms should be free to hug you tight,

 I want to be more than a friend in your life.




I'm afraid to talk to you about this,

Because maybe I'll lose you.

But every time someone approaches you,

My heart goes crazy.




I would like to break the rules

 And ask you to be mine.

We have so many things in common,

 It would not be fair ...




 To ruin also the friendship, to leave, 

But the same time, I want...

 More than a friendship with you.




Although it's all wrong,

 You make me feel so good.

Even if I don't know how you feel, 

I love already for two...




Before I leave, 

Please tell me, 

Can we be more than friends,

 Can I have you forever?