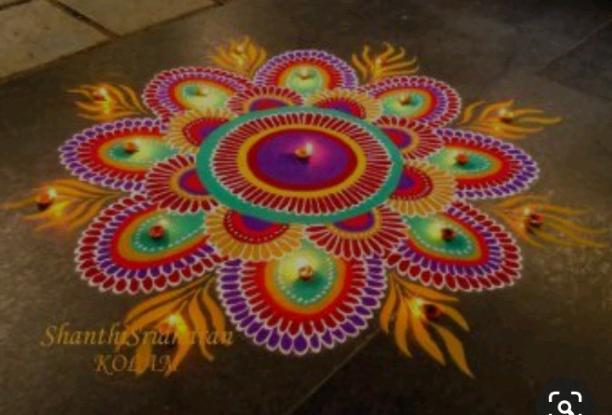 Category : Articles
Sub Category : World
Today is Diwali or Deepavali, the Indian festival of lights that is celebrated by the Hindus. So before I proceed further, I'd like to take this opportunity to wish our Hindu friends in our community a Happy Deepavali. 

One of the most popular festivals of Hinduism, Deepavali symbolizes the spiritual "victory of light over darkness, good over evil, and knowledge over ignorance".

In this article, I am not going to write about the festival itself because I think I've already written one here sometime back. Instead, I'm going to bring your attention to something that is very significant to the festival itself; something that is known as "Kolam".

Kolam is a form of drawing that is drawn using rice flour, chalk, chalk powder or rock powder, often using naturally or synthetically colored powders. A Kolam is a geometrical line drawing composed of curved loops, drawn around a grid pattern of dots. It is widely practised by female Hindu family members in front of their house. More complex Kolams are drawn and colours are often added during holiday occasions and special events. 

Kolams are thought to bring prosperity to homes. The decoration is not the main purpose of a Kolam. In olden days, Kolams were drawn using coarse rice flour, so the ants would not have to walk too far or too long for a meal. The rice powder also invites birds and other small creatures to eat it, thus welcoming other beings into one's home and everyday life; a daily tribute to harmonious co-existence. It is a sign of invitation to welcome all into the home, not the least of whom is Lakshmi, the Goddess of prosperity and wealth. The Kolam patterns range between geometric and mathematical line drawings around a matrix of dots, to free form art and closed shapes. Folklore has evolved to mandate that the lines must be completed so as to symbolically prevent evil spirits from entering the inside of the shapes, and thus they are prevented from entering the inside of the home. 

It used to be a matter of pride to be able to draw large complicated patterns without lifting the hand off the floor or standing up in between. To be able to pull that off, trust me, it's not an easy task. 

In the Kolam patterns, many designs are derived from magical motifs and abstract designs blended with philosophic and religious motifs which have been mingled together. Motifs may include fish, birds, and other animals to symbolize the unity of man and beast. The sun, moon, and other zodiac signs are also sometimes used. A downward pointing triangle represents a woman, while an upward pointing triangle represents a man. A circle represents nature, while a square represents culture. A lotus represents the womb, and a pentagram represents Venus and the five elements.