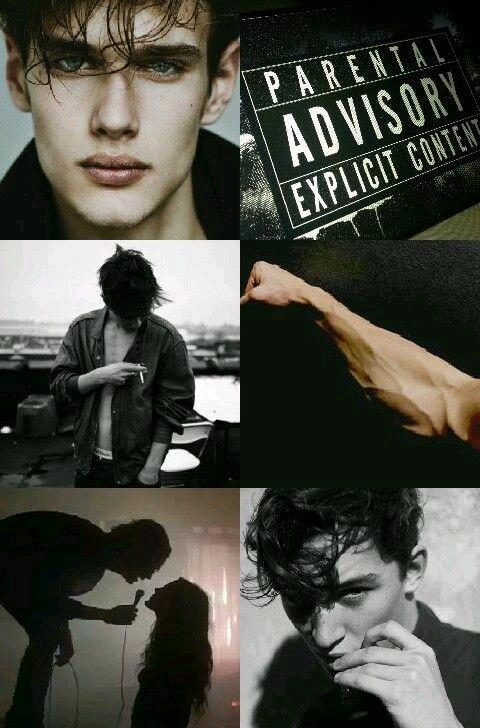 Chapter 1
Read Count : 18
Category : Books-Fiction
Sub Category : Fan-fiction
I felt the car stop as I groaned when I felt a few pokes on my back as I opened my eyes and looked at the person was poking me only to meet crystal blue eyes looking into my silver ones. "Do I really have to go, Cyrus?" I asked my new adopted parents who were just actually someone who is taking me in while my foster family was getting things together. Melinda and Jim were getting things together to their new home which my elder brother bought for them as a gift of taking care of me even though I wasn't there, and here I was in front of this pristine school with their Bull mascot on the crest. Cyrus looked at her husband who was a silver-haired guy who only looked at me with loathing eyes. "Just go, we will pick you up by next year, so for now just be good and don't cause any trouble," He says as I growled and got out as I hear the trunk pop open for me to grab my bags and guitar case. I then shut the trunk and walked to the sidewalk where the gates of Bullworth were raised like hell's gates. "Have fun Maria, and we will send you many messages," Cyrus called out as I put my bag on my shoulder and held my guitar case in one hand while flipped them both behind me before walking up to the gates where a woman was wearing a 1950's dress with a white collar with her hair short cut as I stopped and raised my eyebrows at her. "You must be the Clancy girl," She scoffs as I set down my guitar case and held out my hand for her to take. "Ugh!" She exclaims in disgust, "What are you doing?" She adds as I looked at her. "That is one way to welcome me," I tell her as I grab my guitar case and towards the gate. "Where's the principal's office?" I asked her as she followed me and stopped when I asked. 

"He's in the main building in which will be in front of you, then he will be on the top floor, you better hurry, Dr. Crabblesnitch hates to wait." She says as I hear her sighs dreamingly, I just kept walking while taking in my surrounding of the campus. There was a large fountain in the middle of the campus to only cut off in three paths. One that leads to the main building. Another to only lead to the Girl dorms, then the other path must go to the boys' dorms. I walked onward to the main building only to bump into a much taller boy. I looked at him and heard him huff at me. "Watch it!" He grumbles as I looked while he walked off while dusting himself off. "What's his problem?" I asked myself before heading back on the path to the doors. Once entering the school, a couple of students stopped and looked at me while lugged my stuff up the steps while people continued to watch me. 

Once at the room where the principal was located, I walked into the room before setting my stuff down before entering his room. I walked into his room as he looked up and watched me standing completely still. "Ah you must be the Clancy child," He says as I nod and walked over to the chairs. The man was a tall man wearing a brown suit out of the styles of today. He had brown hair and a cleft chin. I sat down and watched as he sat in front of me. "Not much of a talker? Oooh, I'm so scared" He says in a mocking voice as I rolled my eyes. "This is a welcome I get here...." I spoke to him before crossing my arms over my chest and scoffed under my breath as I spoke. "Pathetic," I tell him as he straightens up. "What did you say?" He exclaims as I shook my head. "Nothing...Sir" I say as he smiles at my mannerism. "That's more like it, so let's see where you are coming from," He says as he looks at some papers in which had black lettering of reports. "Coming from a fighting academy where you graduated from there, but you came here for generals. Well be thankful we have those," He says as I nodded. "Miss Danvers!" he calls the woman that greeted me at the front as she walks in. "Yes, Dr. Crabblesnitch?" She says as she looks at him with a loving look. 

"Please take Miss Clancy to the girl's dorm to dress in her school uniform" He orders her as she nods and looks at me. "Come along girl, get your uniform on, we don't have all day." She says in a stern tone before watching me grab my stuff and walked out of the office and down the steps to the doors. I walked out of the main building and walked over to the girl's dormitories and even out here, everyone was looking at me with their curious stares. I got to the dorms as I entered and went to my room which was on my schedule that arrived in the mail prior to my arrival. I walked to the last door on the 3rd floor where I put my bag down on the cot as I notice I had my own room. I closed the door so I can change and grabbed the clothes that were in brown wardrobe wear there were a white buttoned-up shirt and a plaid blue skirt with black shoes. Along with the shirt, there was a red tie that is supposed to be above the white shirt but underneath the teal vest. 

I took off my black jacket and black tank top before putting on shirts that were soft to the touch. I then took off my shoes and pulled down my pants as I pulled on the plaid skirt and did a small twirl before putting the shoes on. Just as I finished a soft knock was heard on my door as I cleared my throat before calling the person in. "Come in," I say as I start to unpack my clothes as the person came in and stood there as I looked behind me to see a girl with brown hair that was pulled up into a high ponytail with green glasses that matched her Bullworth dress. "Well, who is coming to greet me at such an hour," I say as I looked at her as she gulped. "My name is Beatrice, I heard you were the new girl at Bullworth Academy, what is your name by the way?" She asks as hold out her hand and looks at me as I took her hand and shook it. "The name's Maria and it's nice to meet you," I smiled before pulling away as I fixed my long black hair. "So you do music?" She says as she touches my black guitar case. "Yeah, I write a lot of music..." I tell her as she smiles. "So you gonna go and see the school body, if you want, I can show you some new friends. Maybe I can show you my new friend Jimmy," She says as she pulls me out of my room as I gasp before letting her drag me. "You know for a skinny girl like yourself. You're strong" I comment on her as she smiles. "Thank you," she says as I let her drag me to the main building but stopped to see a short stocky boy with a buzz cut and one gold earring in his right ear. 

"Jimmy!" Beatrice called out as the boy stopped from where he was going only to smirk to see Beatrice. "What do you want?" He chuckles as I looked at him. "Maria this Jimmy, Jimmy this is Maria, she's the new girl at the school," She says as I held out my hand to me. "Nice to meet you Jimmy" I smiled as he smiled back. "Likewise," He says taking my hand and shaking it. "So how you like it here?" He asked as I shrugged my shoulder. "Seems like any other school I've been too" I explain as Beatrice squeals as I look at her. "What's your deal now?" I asked her as she squealed even more. "I knew you were going to get along with Jimmy, maybe even fall for him." She says as I hit her over the head with the back of my hand. "Get that head of yours checked," I say as I walk away. "Unlike you, I didn't come here looking for love, but more of friendship. Is that what you guys call it," I look at them as Beatrice smiles. "Yeah that's what friendship is," she says as I nodded and walked away. "Where are you going?" Beatrice called to me as I continued to walk away. 

---

I got to the football field watching to see if anyone was around. Making sure no one was around, I opened my arms wide open before feeling the black ruffled feathers poke through my skin as I flew up to the old abandoned building known as the observatory. Once on top, I turned into my human form and sat down on the roof as I looked at the whole campus of Bullworth taking in the whole academy. It wasn't this big when I was at Death City back in Nevada. I continued to sit there until I notice it was getting late by the sun setting as I started to make my way down the observatory before jumping down fully on the ground. I landed on my two feet before I heard a gasp as I looked behind me to see a tall guy, he was about a bit taller than Jimmy, but he was slimmer and had brown hair. He had a notable scar on his eye as I looked at him. 

"Well this is a pleasant surprise to see a girl near the dangerous area of the school," He mocks before walking around me as I rolled my eyes. "I'm not scared to get in trouble, unlike the nerds here." I chuckled as he looks at me before smirking. "You know you're cute for a new kid," He says as I smiled. "The name is Maria. What's yours?" I asked. "Gary. Gary Smith." He says as I started to walk towards the way of the dorms. I put my earbuds in and walked my way to the dorms while I sang a little bit. 

"I spoke to God today and she said that she's ashamed

What have I become.

What have I done

I spoke to the devil today and he swears he's not to blame

And I understood 'cause I feel the same"




I walked on until I got to my room where I grabbed my guitar and closed my door and opened my book and started to write down the lyrics of the music as I started to strum on the guitar.

"Arms wide open

I stand alone

I'm no hero and I'm not made of stone

Right or wrong

I can hardly tell

I'm on the wrong side of heaven and the righteous side of hell

The wrong side of heaven and the righteous side,

The righteous side of hell

I heard from God today and she sounded just like me

What have I done and who have I become

I saw the devil today and he looked a lot like me

I looked away, I turned away

Arms wide open

I stand alone

I'm no hero and I'm not made of stone

Right or wrong

I can hardly tell

I'm on the wrong side of heaven and the righteous side of hell

The wrong side of heaven and the righteous side,

The righteous side of hell

I'm not defending

Downward descending

Falling further and further away

Getting closer every day

I'm getting closer every day

To the end, to the end, the end of the end

I'm getting closer every day

Arms wide open

I stand alone

I'm no hero

And I'm not made of stone

Right or wrong

I can hardly tell

I'm on the wrong side of heaven and the righteous side of hell

I'm on the wrong side of heaven and the righteous side of hell

The wrong side of heaven and the righteous side,

Righteous side of hell"