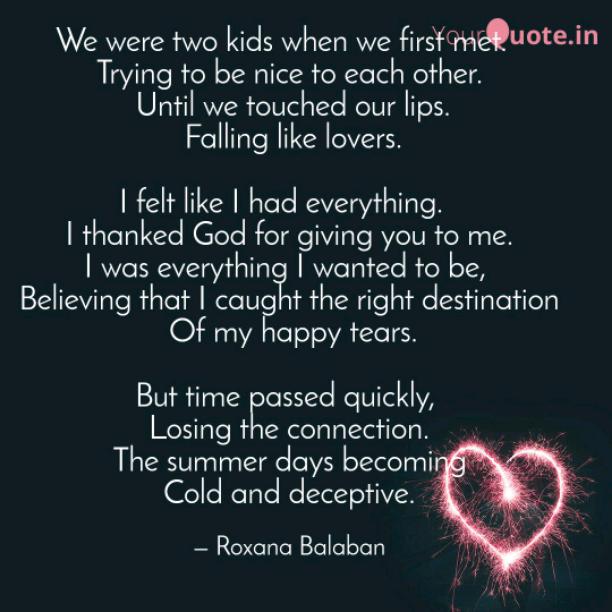 Falling Like Lovers
Read Count : 44
Category : Poems
Sub Category : N/A
We were two kids when we first met.  

Trying to be nice to each other.

 Until we touched our lips.

 Falling like lovers.

  

I felt like I had everything.  

I thanked God for giving you to me.

I was everything I wanted to be, 

Believing that I caught the right destination

 Of my happy tears.




But time passed quickly, 

Losing the connection.

The summer days becoming

 Cold and deceptive.  




I was like a doll in your cold and playful hands.

 You told me I was beautiful, 

Always being nice to me.




  "Hello, hello, can you hear me darling?"

I'm nothing without you, baby.

My dreams are gone,

 Falling like rivers. 

Down, slowly, down to you, baby.




 You remember when you promised me 

That you would pour your love into my veins

 In small doses daily.

Now you laugh at seeing my sad tears 

Pouring from my eyes, baby.




Dear, I didn't lie to you, 

When I told you I was nothing without your love.

Now that you're gone, 

My life is sprinkled with your strong indifference.