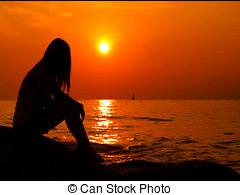 Gone Too Soon.
Read Count : 63
Category : Poems
Sub Category : N/A
As the sun goes down.......................,
Deep thoughts go through my mind..,
In words,I cannot express how I feel.,
Am filled with confused emotions,I cannot set free.

I do not know, whether to believe you,
I do not know, whether I should trust you,
You made me feel like a stranger in your life,
The pain is like a cut, stabbed into the heart by a knife.

Why should I give you another chance?
Why should I let you be part of my life again?
To me you were always so dear.........,
I would take any opportunity,just to be in your atmosphere,

Don't give me that touch, when you know you don't care,
Don't give me that kiss,when it just means betrayal,
Give me a break...............,
To calm down this ache.
     By:Mary Maria.Plzz comment and give your rating.Thank you!