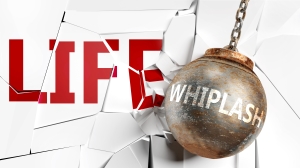 Car Accident Whiplash Injury
Read Count : 23
Category : Blogs
Sub Category : Miscellaneous
Whiplash is very common in car accidents. The bottom line of whether you can sue for whiplash or not is yes, you can. However, determining whether your claim will be successful assists in determining whether it's worth it to go through the process. The very first question before suing is whether the fault was yours or it was with another party. Relevant laws in the state you reside in, as well as records kept from the time of the accident, should be taken into account. Here are a few things that are vital in determining a personal injury case in this situation:

How Can I Keep Records to Prove Injury?

• Medical – Whiplash is typically a soft tissue injury and considered a form of sprain, which means it's up to doctors to assess if you are suffering from it. It's also not considered a grave injury, so to be successful in a whiplash personal injury lawsuit, it's important to keep exceptional records. Whether you want to sue for damages or not, it's necessary for you to go to a doctor immediately after the whiplash car accident. Later on, you may decide that you don't need to sue after all, but just in case, it's advisable to have a medical doctor record your whiplash car accident injuries. Keeping those medical records will help you prove that you've sustained whiplash injures. It's a good idea also to keep records or info and proof of any medication prescribed as a result of the accident, diagnoses, and any other tests that were performed after the accident. If you continuously need medical attention from pain, it's vital to keep a record of every visit to make your case more successful.

•        Costs – keeping track of all the expenses resulting from the injuries, including medical bills, travel to and from doctor visits and hospitals, some wages lost as a result of being out of work, and even notes from the doctor that keep you out of work for a particular period. This will help determine how much compensation the court might award you.

•         Accident Evidence – Any pictures of the car crash will strengthen your claim. This includes photographs of the location of the accident and road conditions. Truthfully, it would be of great assistance having police reports and information from witnesses to the accident, but this is an area where a personal injury attorney would be particularly useful.

•        How Whiplash Affects Your Life – Keep track of whiplash symptoms and how these symptoms are impacting your ability to do routine tasks. If you cannot sleep, unable to attend family functions, have to stay home or cannot efficiently take care of your family, it's important to take note of that.

Who is in the Tort States

This is where some of the collected police reports and photos from the accident will help, however, whether the state you reside in is a tort or no-fault state is an important consideration you have to make. While most states have an effective liability system in place based on proving the tort of negligence, some states only allow the injured party to receive a limited amount of compensation. Most no-fault states allow the injured party to only receive compensation for only those damages not covered by first-party insurance. A minuscule number gives the option for the insurance company to counter-sue.

How to Prove Negligence?

To successfully prove negligence, it's important to file a claim with your insurance provider right away as well. Whiplash car accident injury is often a result of being rear-ended, which is, most of the time, considered the opposite party's fault, even if you stopped short for whatever reason. However, you'll still want to prove that the whiplash car accident wasn't your fault, which is another thing that a personal injury attorney gives guidance with.