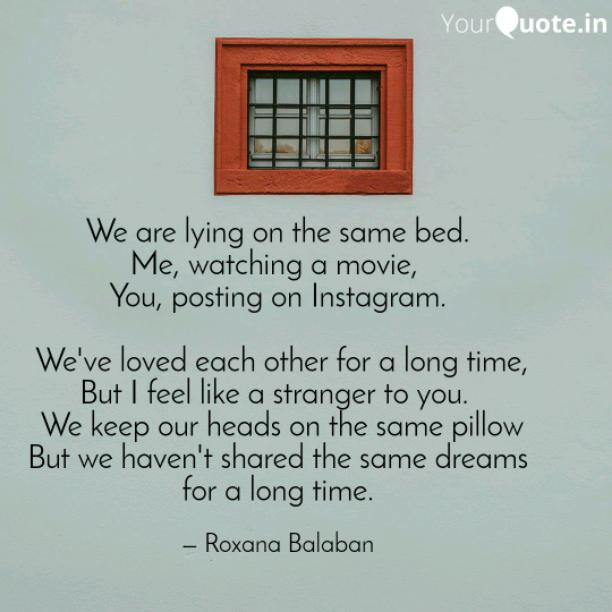 Completely Mine
Read Count : 39
Category : Poems
Sub Category : N/A
We are lying on the same bed.

Me, watching a movie, 

You, posting on Instagram.




  We've loved each other for a long time, 

But I feel like a stranger to you. 

 We keep our heads on the same pillow

 But we haven't shared the same dreams 

for a long time.




 I know you would like to have someone else

 In my place to give you love.

  I close my eyes to let a few tears fall in my darkness.




I need you more now

 But you pretend you never knew me, 

And that kills me.

Yes, your indifference kills me.  




I hold my breath, 

But I drown in your air,

 I feel so close to you but 

You can't be completely mine.
Comments
We do all the time love each other, but turn on each other the good one stays good sees the other true colors, probably the last thing they ever see. Love is love, but is it, if for how long😰? Ahhh, your poems sends me a whole trip to a dark world of people in love so sweet an few years or so, becomes this evil sick person side you've never seen before. Such imporvement, I have in then trusting everybody, that's nice to me oddly or had before. Oooooh😱

Aug 02, 2020