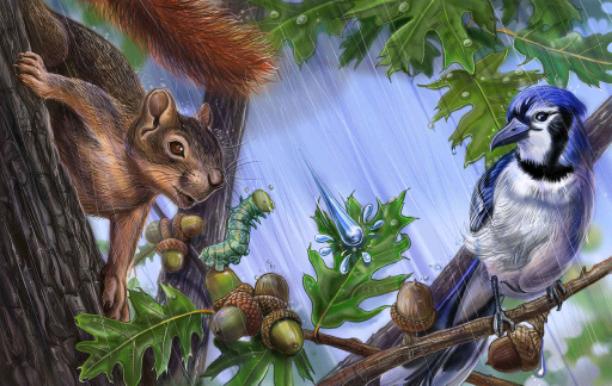 The Two Friends
Read Count : 43
Category : Poems
Sub Category : N/A
One day there was a squirrel dressed up in a nice english suit smoking a pipe. He is sitting on a tree shacking and jittery talking to his friend Blue Jay who is wearing a french suit. "Bonjour good sir." said Blue Jay. "Oh yes hello Blue Jay." said mister squirrel. " "Lovely day to see the sun rays." said the proud Blue Jay.




"It is a good day to stay and see the rays." said mister squirrel. "My I take a puff of your tuff pipe?" asked Blue Jay. "Sure I don't see a problem with that my "Blue" friend who likes that." said Mister Squirrel." Mister Squirrel removes the pipe from his mouth and hands it to Blue Jay.




Blue Jay takes a few puffs and inhales and says "Oh my friend what good taste this pipe makes." Mister Squirrel grabs his pipe and takes a few puffs. "Before I tan do you want to hear my plan?" asked Mister Squirrel to his friend.




"Yes I do." said Blue Jay. "My plan is to have a land of Ducks to make for sake lots of money. "By doing this need to be  raising amazing Ducks." "And sell there eggs in rags make it a Duck farm with many barns but I need lots of helpers to be sellers and shelter the Ducks." said Mister Squirrel.




"Are you interested in joining?" asked Mister Squirrel. Blue Jay looks at Mister Squirrel with a dumb founded face and said to his jittery friend "You my good sir are definitely nuts." Then both Mister Squirrel and Blue Jay start laughing together and the whole woods can hear them.