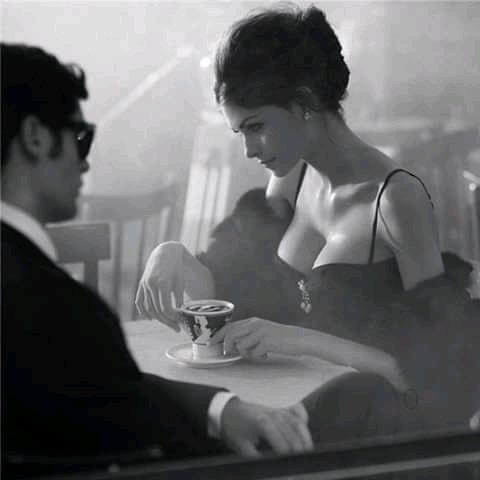 Perfect Stranger
Read Count : 96
Category : Blogs
Sub Category : Relationships
He was sitting alone in his regular cafe, enjoying his coffee fix when she walks in. Her aura fills the room. 




He notices her instantly as she enters. His eyes, like magnets were drawn to her striking beauty. He feels powerless. 

 

Her hair, as black as a raven's wing, caresses the porcelain skin of her shoulders. Its dark lustre frames the simple beauty of her face, which he studies carefully. 




Firstly, he studies her moist lips; so warm and inviting. Then his gaze turns to the delicate curve of her nose and finally, the depth of her dark brown eyes that were looking back at him, holding his gaze, as if she is reading his thoughts and touching his soul.




His eyes scrutinise the soft white nakedness of her neck and shoulders, slowly letting his eyes wander to her ample breasts. Their fullness fringed tantalizingly with black lace. He is immediately aroused. 




Her smile broadens and her cheeks flush as if she can sense his arousal. 




She turns away, while he continues feasting his eyes on her. 




He studies her dress, the way it clings onto her firm body like a second skin, hugging her contours in the same way that he wants to.




She saunters over and sits herself down opposite him. 




His gaze returning once more to the fullness of her breasts as they rearrange themselves within their lacy confines. 




Electricity zaps the air around them. 




Their eyes meet again and she smiles, knowing his thoughts and revelling in them. 




Without breaking their eye contact, she opens her bag and takes out a cigarette. She holds it in her slender fingers, before placing it between her moist lips. 




He finds himself envying its intimacy as he lights it. He wishes to be that cigarette between her lips. He wants to feel her warm breath on him. He longs to feel the sensation of her lips pressing firmly on him as she sucks him, inhaling his smoke into her lungs. 




Instead, he buys her coffee and they sit talking and laughing. 

 

Although her young nubile body gives rise to sighs, he is held captive solely by her beautiful eyes.