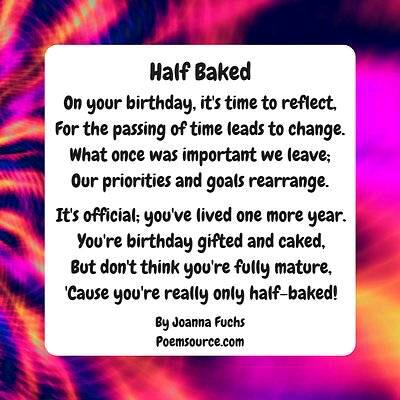 Forgotten Birthday
Read Count : 23
Category : Poems
Sub Category : N/A
Hahahahahahahahaha 
Very funny 14th of July 2020 woking up
Knowing that its your fucking birthday.
Tick tock tick tock the clock is ticking.
Waiting in bed, the door is opening.no one enters
The feeling of waiting for someone who doesn't
Show up.

Tick tock tick tock the clock is ticking.the door 
Closing knowing that she left without saying
Happy birthday. The feeling of knowing that she 
Went to work without singing a birthday song to
You.the feeling of knowing the date but yet 
No one seems to remember.

Knock knock knock,the door bell rang
Running at the door thinking that maybe 
Your friends came to wish you a happy birthday.
But no its your neibour who came to ask if you 
Have seen her cat.the pain.urgh i feel so stupid.
Going back into the empty house feeling heart broken

Tick tock tick tock the time is still moving its 5 in 
The evening. The door opens.she enters 
The room empty handed."honey I'm home she says"
I just happened to keep my tears from caming out.
I run to my room slammed the door and hid my face.
Its my 15th birthday.

I looked at the clock it seems like it stopped moving.
"Dinner is ready"she says while caming towards my
Room."I cooked rice and chicken are you caming". 
Yea sure I said putting a fake smile on my face.
I ran down stares only to find her sitting while her
Eyes were on her phone.

Tick tock tick tock the time started moving it 
Was already 6:15pm while I was just sitting there
Without doing anything."what's wrong honey you 
Haven't touched your food" she said while looking at
Me.It my fucking birthday I said while tears started
Flowing like water from a tap.

Knock knock knock she opened the door
And there it was.my neibours standing a few 
Steps from the door."can I came in"she asked 
While her ice blue eyes were fix directly at me,I knoded.
"You little snake you stole my cat"she said while searching 
The room."could this day get any worse"mom snapped.

Laughing"what do you mean by that?I was just joking 
I just wanted to let her know that I found my cat"my neibour 
said while leaving the room.there she was looking
So surprised."happy birthday sunshine".she said
While smiling like a baby at a candy store.

What should I be happy about i snapped, should
I happy for you forgetting my damn birthday or what?
What kind of a mother are you. A mother who forgets
The day she was in labour!!!! I said while running
To my room."blame this on the corona virus".she said while
Cleaning the table.

The nerve of a woman!!!!!!!!