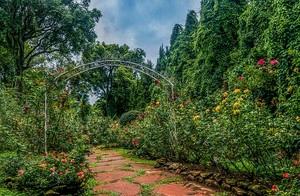 Category : Stories
Sub Category : Childrens
Once there was a little girl named (Twinkle) lived with her mother(Meera ) , father(Pramod), younger sister (Riya )and a brother(Riyansh). They lived in a beautiful house in a hill station ,having a beautiful garden with plenty of flowering trees. Twinkle and Riyansh loved their garden so much while Riya doesn't have any interest in gardening.

Twinkle and Riyansh loves all the flowers which they planted, all the flowers look so beautiful and smell aromatic. it's brought a new look to their sweet home.

One morning, three of them went for a morning walk ,suddenly their neighbour(Romi aunty) came to pick the flowers from their garden.

Twinkle: what's going on ,who are you?

Romi aunty: I am your neighbour,I had just visited this place to take some flowers .

Twinkle: but why?

Romi aunty: I love all the flowers which you have .

Twinkle: but we didn't allow anyone to pick ours flowers.

 Romi aunty; sorry miss...

Then Romi aunty went.

Three of them used to play inside their garden and do yoga,meditation with their parents. In the evening time they used to take snacks and spend most of their time in their garden.

One night it was raining very heavily with lightning and thunder.Twinkle looked into the garden through the window, she saw her garden was completely destroyed and started crying. Next morning  twinkle started crying again, then all of the family members run to see what happen to her,but Riya ignore those thing and started laughing and teasing her. But her parents started showing sympathy  to her and make her understand that they will bring variety of flowering trees for her garden and then she can plant those variety of trees inside the garden ...

After listening to her parents, Twinkle started smiling and somehow felt better..

The next day ,her parents brought variety of trees for her garden ...Twinkle and Riyansh started planting again and changed the look of their garden and made it look even more attractive, after that they started playing again.

Time flew... after 15 days. When the next thunderstorms came, it's was raining whole night. It continued for 2 days. after seeing this Twinkle and Riyansh stopped talking and playing with others. They also stopped taking food. They totally became unhappy.... after seeing this attitude, their parents also started thinking about what to do next so as to make them happy. Riya also felt uncomfortable and hopeless .she also started thinking of what to do next...

Then she decided some thing to do...

She called her friend Ravi( her childhood friend).

Ravi: why you called me?

Riya: Nothing serious.... but I need your help;can you help me..

Ravi: Yes i will..

Riya: We have to set up the garden and make it look beautiful as it was before..

Ravi: Yes,why not! Nothing to be tensed we can do it so easily,we just need some wood and rope ,so that we can make a background support around the trees. so whenever the wind came it's can't destroy the trees...

Riya: Superb idea! then go for it.

Ravi: Yes, we can.

Then they started working accordingly. It took some time ,they both give their best efforts to make it possible and in return  gave a beautiful garden to their family. When they returned to the garden, they were surprised to see the garden as it was before, they felt sorry for their child Riya and hugged her and appreciated  for her attitude towards her family. Since then everyone of the family stated showing love and affection towards Riya. Twinkle and Riyansh also hugged her and kiss her forehead and say... Thank you! Sister Riya smiled. They all went to their homes and happiness returned.

Days pass Riya started planting with Twinkle and Riyansh, they plant numbers of trees, they enjoyed a lot in their garden which looks  beautiful and cool breeze pass through..,which gives them freshness and a peaceful environment .

Riya started to love all the flowers and felt better when she saw all of them happy...