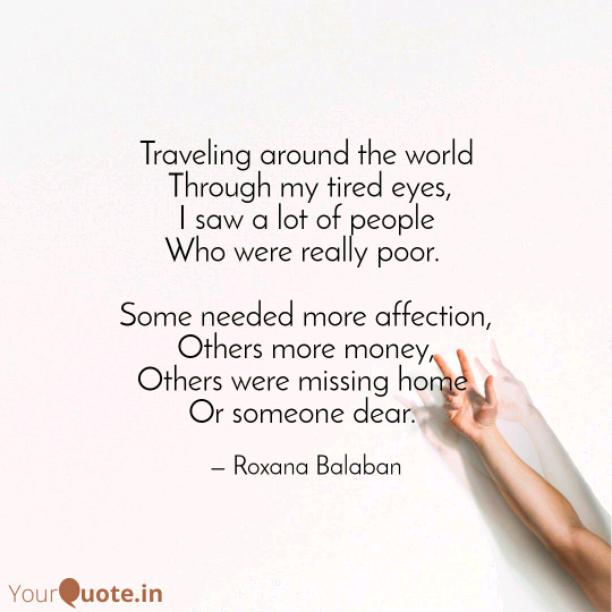 Traveling Around The World
Read Count : 9
Category : Poems
Sub Category : N/A
Traveling around the world

 Through my tired eyes, 

I saw a lot of people 

Who were really poor. 




Some needed more affection,

 Others more money, 

Others were missing home

 or someone dear. 




So far from each other, 

But somehow 

We continue in the same direction.




 We all have souls

 With different victories, 

Failures, and of course, 

Different opinions. 




If we listen more and talk less, 

We can create a strong connection 

Between us.

 

Who am I to judge you?

 When my life is full of sins. 

Who am I when I look in the mirror,

 And no one is around to see me?




 Do I stay the same 

Or do I have to put my mask down?




 The society we live in,

 Has classified by many criteria 

And left us many labels to overcross. 




You do not need a religion

 To be a good person, 

You do not always need money to help it. 

You do not have to speak

 The same language to feel the same way. 




You do not have to be a teacher 

To teach others what you learn. 

If you humiliate others

 It does not mean that you are above.




 We promise a lot 

And we do nothing at all. 




Do not put your limit on thinking 

Because today you can help someone, 

And maybe tomorrow you will need help

 From the person you offered.




 Do not judge a man after he is dressed,

 The character is hidden 

Behind the company clothes.

 If you can help, help! 

If not, go ahead! 




Do not harm another

 Because is human like you.




 Learn from the water to be smooth,

 Learn from the wind 

How to carry the words,




 Learn from the forest how to be upright, 

Learn from the sun, to make no difference.

 Learn from the moon how to use silence. 

Learn all your life, not just during your school.