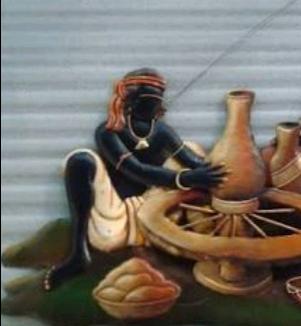 A Potter And His Pottery
Read Count : 20
Category : Stories
Sub Category : Childrens
There was a Potter called Augustus in the eastern part of Rome city.He was a very polite and honest person who works very hard to serve a meal for a day to his family. 

He was in a kutcha house with his wife and 4 kids.Augustus was well aware that his family was not satisfied only with a meal.He knows his kids wanted to have a better life and they don't deserve this. 

It was an early morning on Sunday and the entire village got up by the sounds of a drummer who announced that there is a function going to happen in the palace coming Saturday and he needs 1000 pots with 1000 different designs on each pot by Friday evening to the palace. 

Augustus who listened to it,wanted to make the best out of this opportunity.However he knows well there is a huge competition for this opportunity from different villages but he somehow wanted to do it. 

He discussed with his wife about the participation and they both were very much excited but Augustus was well aware that he didn't have enough money to purchase the materials and he sat near the bank of the river thinking about this. Seeing this Augustus wife sat near to him and asked what was he wondering all about? Augustus told the thoughts that running in his mind.His wife immediately told to him not to worry about it and asked to sell her jewelry to purchase the materials.He initially hesitated but he wasn't having any other better options then this. So he borrowed the jewels from his wife,sold it for some amount and purchased the materials and started his work. His wife Monica helped him with beautiful designs. Augustus and Monica both were very much happy of the final out come and they all were set with the pots on Friday morning to carry it to the palace. 

Augustus and Monica with the help of there 3 friends arranged the 1000 pots in 5 bullokots and started to ride.Augustus was dreaming about his future plans after his visit to the palace, but his dream suddenly shattered because of the unexpected disaster. There was a huge tree which blocked the entire road. Seeing it he was shocked,he and his friends was well aware that there was no other path other than this.His dreams shattered he wasn't able to make in to the palace. He cried alot and returned back to the home. 

The entire family shattered with tears.Next day afternoon there comes a Solider from a neighboruing palace and announced that the King needs 1000 pots by end of the day and whoever gives this will be rewarded with 4000 gold coins. The villagers wondered how it was possible to deliver 1000 pots within a day? 

Augustus who listened to this immediately called the Solider and told the entire scenario of yesterday's and took him to his pottery to see the pots.The Solider was amazed seeing the designs of the pot and he asked his fellow Soliders to take all these pots to the Palace and took Augustus along with him to the Palace. 

The King Julis was surprised to see those beautiful pots and he greatly appreciated the work of Augustus and rewarded 4000 gold coins and to his wonder the King asked him to stay has one if his workers in the palace.Augustus who listened to these shattered with happy tears and was extremely happy by the King words. 

Sometimes go with the flow. 
"If things goes wrong and your plan is shattered entirely. It means God has some other plan in which you deserve the most best things"

Wait for your moment.