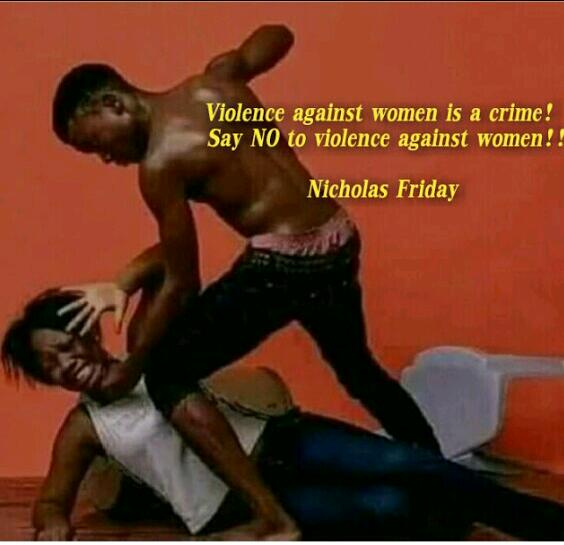 Why Have You Not Joined?
Read Count : 12
Category : Articles
Sub Category : Lifestyle
Please may I get few minutes of your precious time as we quickly loot at a pressing matter together. This matter touches the very fabric of our society and social relation; it is violence against women.

The menace of violence against women appears to be alarming in our days amidst growing sensitization and campaign against  the ugly trend. Advocacy groups, individuals, and institutions have joined forces in recent times to curb the dastard acts of violence against women. Irrespective of the collaborative efforts of well meaning and spirited individuals and groups against this malady, violence against women especially in the Third World seem to be rising.




Recently, Bridget Awah Ezeh, a great lady who has affected lives positively via the "WithoutWalls" platform joined the campaign against violence against women. For me, its a laudable step and I wish to encourage her peers to do same. However, I like to expose without sentiments and prejudice that the fight against the issue at hand have been counter productive or ineffective. The reason being that Nigerian women have not been able to throw their full weight behind the campaign. Only a small portion of Nigerian women has truly proven to us that the world need to put a stop to violence against women.

Those of us men who have championed this campaign in time past and even in recent times are either labelled a "Feminist or Woman Wrapper". Most times our articles are discarded by publishing houses and other platforms. Most elites find it uninteresting to read articles touching this matter on our social handles.




Considering the magnitude of this fight, the approach of Nigerian women is pivotal to its success but its rather unfortunate they have not been decisive in their approach in ending this satanic culture. How many of our elites who are women have sponsored articles on national dailies on violence against women? What is the percentage of ladies amplifying the campaign against violence against women on their social media handles? Instead they choose to flood the media with selfies, tempting photos, and unnecessary posts. How many rallies or peaceful protest have been initiated and executed? How many bills have been sponsored by women in our legislative chambers with regards to violence against women?

Again, most  of our female elites who are making giant strides on media do not write about this matter. If they do, it is seldom and vague. The question before you as a lady is, WHY HAVE YOU NOT JOINED? What is stopping you from fighting your own battle? Are you comfortable with the menace? These are interrogations staring at you boldly.




If the fight for violence against women must take root in our society then all women must unify against the enemy. You cannot be divided and hope for a big blow that will take the enemy to the ground. Reasonable number of men are with you in the fight so capitalize on the alliance to generate the desired force needed for total victory. I must express my disappointment in our women for not coming all out against their very own enemy.




Finally, I wish to admonish all female elites to approach this matter in a manner that the entire world would be drawn to it. We want to see your social media handles amplifying the campaign herein, we want to read in national dailies same campaign, we want to see rallies and forums in view of Same campaign. It is my avid believe that as you take a holistic and decisive approach on the fight tailored towards ending violence against women, victory will be secured and sustained. Its time to join the campaign. Ask the next lady, WHY HAVE YOU NOT JOINED?