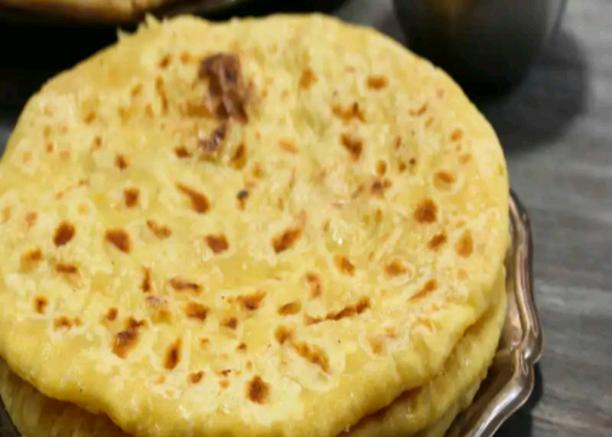 Aravi Paratha | Arbi Paratha | Honey'z Corner
Read Count : 10
Category : Recipes
Sub Category : Vegan/Vegetarian
INGREDIENTS OF ARBI PARATHA

8 Servings

1 kilograms boiled arbi (colocasia root)
2 green chilli
1 teaspoon cumin powder
2 tablespoon coriander powder
2 teaspoon red chilli powder
1 teaspoon powdered turmeric
2 tablespoon garam masala powder
2 teaspoon dry mango powder
salt as required
4 sprigs coriander leaves
2 cup whole wheat flour
6 tablespoon refined oil
1 cup water

HOW TO MAKE ARBI PARATHA

Step 1 / 4

Start by adding 2 cups of flour along with some salt in a bowl and pour some water to it. Knead these together to make a soft dough and make sure it is smooth. Drizzle some oil over the kneaded dough and spread it evenly. Use a wet cotton cloth to cover the dough and set it aside. After some time, cut out small portions of dough and roll these in the form of small balls. Set these asde.

Step 2 / 4

Next, take a large bowl and add the boiled arbi in it. Using a fork, mash the arbi and add chopped green chilies, chopped coriander leaves, cumin powder, coriander powder, dry mango powder, garam masala powder, salt and turmeric powder. Mix these well and make sure that the arbi is well coated with all the spices. Make 8 to 10 balls out of this mixture and set these aside. This will become your stuffing.

Step 3 / 4

Now, using a rolling pin, flatten out the dough balls in to disc shaped parathas and stuff the arbi mix in it. Close the stuffed dough balls and roll the stuffed paratha out. Repeat this with each dough ball and make 8 to 10 stuffed parathas.

Step 4 / 4

Next, place a pan over medium flame and let it get hot. Once hot, place the stuffed raw paratha on it and let it cook. Once it cooks on one side, flip it and then drizzle some oil on the cooked side. Flip it over and spread oil on the other side as well. Cook both the sides until the paratha turns golden brown and crispy. Repeat this with each raw paratha and transfer the cooked parathas onto a plate. Serve these hot with curd or chutney and enjoy!