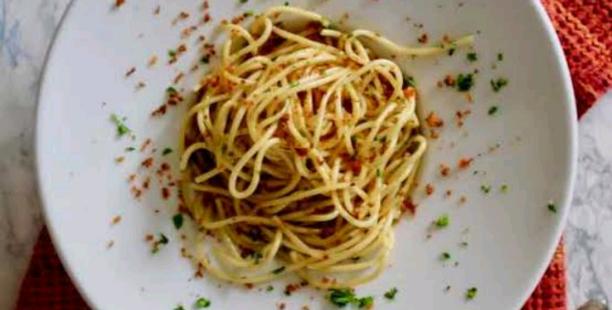 Bottarga Pasta
Read Count : 48
Category : Recipes
Sub Category : Snacks

Ingredients


5 tablespoons extra-virgin olive oil


1 tablespoon unsalted butter


1 cup coarsely ground breadcrumbs (from a baguette ground in a food processor)


Coarse salt and freshly ground pepper


1 pound bucatini or perciatelli pasta


6 cloves Martha's Roasted Garlic


4 garlic cloves, very thinly sliced


2 tablespoons grated bottarga, plus more ungrated for garnish (about 3 ounces total)


3 tablespoons very coarsely chopped fresh flat-leaf parsley
Directions

Step 1
Heat 2 tablespoons oil and the butter in a skillet over medium heat until butter foams. Add breadcrumbs, salt, and pepper. Cook until golden brown, about 5 minutes. Transfer to a plate.
Step 2
Bring a large pot of water to a boil. Add 1 tablespoon salt and the pasta, and cook until al dente.
Step 3
Meanwhile, heat remaining 3 tablespoons oil in a large skillet over medium heat. Squeeze pulp from skins of roasted garlic into skillet, and add sliced garlic. Cook 2 minutes. Using tongs, transfer pasta directly from boiling water to skillet. Toss to coat. Add 2 tablespoons grated bottarga, the parsley, and half the breadcrumbs, and toss. Transfer to a platter. Season with salt.
Step 4
Sprinkle pasta with remaining breadcrumbs. Grate a generous amount of bottarga on top. Serve.