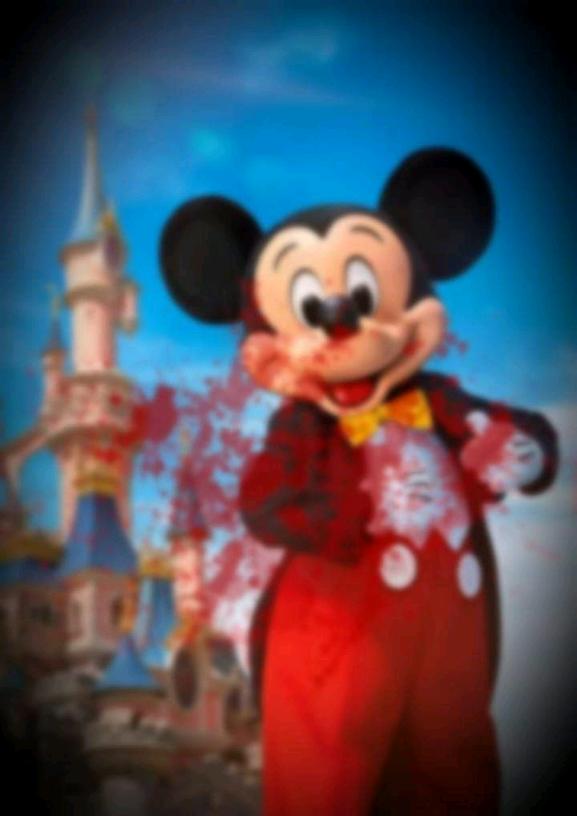 𝑴𝒊𝒄𝒌𝒆𝒚 𝑴𝒐𝒖𝒔𝒆
Read Count : 15
Category : Stories
Sub Category : Thriller
- 𝑶. 𝑩𝒆𝒍𝒍𝒆𝒇𝒆𝒖𝒊𝒍𝒍𝒆





𝖣𝗂𝗌𝖼𝗅𝖺𝗂𝗆𝖾𝗋: 𝖨𝗍 𝗐𝖺𝗌 𝗂𝗇𝗌𝗉𝗂𝗋𝖾𝖽 𝖻𝗒 𝖲𝗎𝗂𝖼𝗂𝖽𝖾 𝖬𝗂𝖼𝗄𝖾𝗒, 𝖻𝗎𝗍 𝗇𝗈𝗍 𝗆𝗒 𝗂𝗇𝗍𝖾𝗇𝗍𝗂𝗈𝗇 𝗍𝗈 𝖼𝗋𝖾𝖺𝗍𝖾 𝗋𝗎𝗆𝗈𝗋𝗌 𝖺𝖻𝗈𝗎𝗍 𝗂𝗍. 𝖨𝗍'𝗌 𝗃𝗎𝗌𝗍 𝖺 𝖿𝗂𝖼𝗍𝗂𝗈𝗇𝖺𝗅 𝗌𝗍𝗈𝗋𝗒. 𝖳𝗁𝖺𝗇𝗄 𝗒𝗈𝗎 𝖺𝗇𝖽 𝖾𝗇𝗃𝗈𝗒!




It was Saturday at exactly 6 pm, Bella was wipping the vacant seat and table when a happy family came in. 

"Welcome to Disneyland Restaurant!" A guy named Emmanuel, standing near at the window where you can see the greeny garden, welcomed them.

"Mommy, I want to see Mickey Mouse!" exclaimed by a little girl.

"Later, you have to eat first before we go to the Disneyland," her mom explained.




After a while, Bella took their orders. The dad, Mr. Morris, ordered a pot roast and fajitas. Mrs. Agatha Morris ordered a spicy putanesca and tater tots for her daughter.

Bella came to the kitchen area, eyeing to her colleagues. "They want these." She placed a sheet of paper on the table. Everyone's busy aside from Marcus and Venez. 

"I'll take over," said Marcus. He prepared food for the newcomers, then Emmanuel served it. 




Twenty minutes after Emman served the food, the trumpets and loud music played for the parade. All Disney characters marched. They could view all the happenings from the restaurant's glass door as they went to the dinning area when their customers went out to watch.

Bella seemed to enjoy the show, all of them. All of the staffs enjoyed the show.

The little girl who wants to see Mickey went outside with her parents. 




Suddenly, they heard a loud noise from the kitchen, but it's not just noise. Seems like someone's throwing away all of their stuffs. Casseroles and pans are causing loud noises.

"What's that?" asked Marcus to his colleagues.

But no one answered and they gave him clueless faces.

Bella tried to ran away to check what's inside, but Eman pulled her by the wrist quickly. "Stop, Bella!" He raised his voice.

"We'll go there, all of us," he added.

They can still hear those breaking glasses and plates. Seems someone's wrecking everything inside the kitchen. 




They slowly walked towards inside the kitchen. Tiptoeing, silent and nobody's talking. They're just talking using their eyes, and they decided to check the kitchen first, where the loud noises came. 

Venez covered her mouth when she saw their cooking materials and kitchen stuffs scattered. Nobody's there. They looked at each other, seemed like they all have same thoughts. 

"Where's Mr. Wagner?" That's what they're thinking. He's the manager of Disneyland Restaurant in Paris, France. 




They went rushing through the stock room and they're all shocked, witnessing Mr. Wagner bathing in his own blood. His eyes were wide open, he collapsed and died even before Venez dialed the 911 number.

They're all crying and blurting their words with curses. They loved their manager so much because of his real kindness.

Marcus groped Mr. Wagner's chest while he's palming tje right hand of the dead body. He felt something on his chest, he pulled it carefully.




A letter. It says:




'𝑰 𝒅𝒐𝒏'𝒕 𝒘𝒂𝒏𝒕 𝒕𝒐 𝒘𝒐𝒓𝒌 𝒇𝒐𝒓 𝑴𝒊𝒄𝒌𝒆𝒚 𝒂𝒏𝒚𝒎𝒐𝒓𝒆. 

𝑷𝒍𝒆𝒂𝒔𝒆 𝒘𝒂𝒕𝒄𝒉 𝒐𝒖𝒕 𝒇𝒐𝒓 𝒕𝒉𝒆 𝒍𝒐𝒗𝒆 𝒐𝒇 𝒎𝒚 𝒍𝒊𝒇𝒆, 𝑴𝒊𝒏𝒏𝒆𝒚—𝑬𝒍𝒊𝒛𝒂𝒃𝒆𝒕𝒉.




                                                   𝑳𝒐𝒗𝒆, 

                                                   𝑪𝒉𝒂𝒓𝒍𝒆𝒔 𝑾𝒂𝒈𝒏𝒆𝒓.'




"Miss Elizabeth," Venez whispered. 

"She's Mr. Philemon's fiancé," she added.




"The restaurant is burning! The restaurant is burning!" Belle declared hysterically. 

The back door was locked, and the dinning area's burning. All of them were panicking, running out time to seek help.




A loud noise from an explosion was heard by the little girl who's watching the parade.

"Mom, look at Mickey. Over there, he's over there near at the burning restaurant," she pointed while laughing.

"I found you, Mickey!" She smiled.