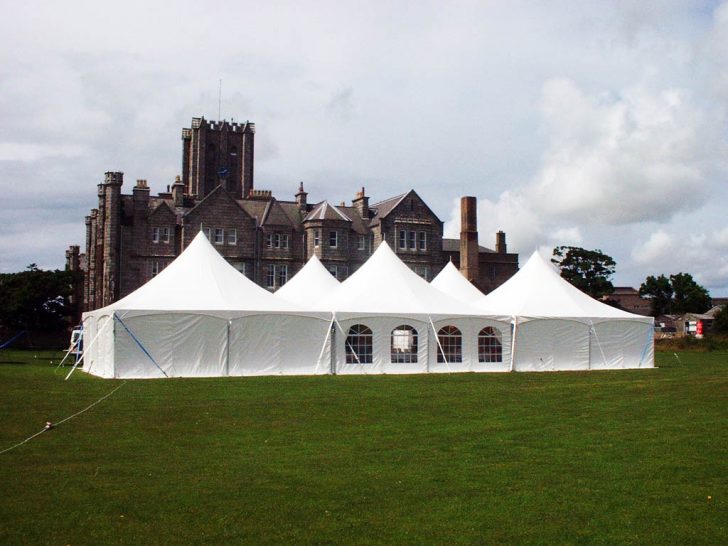 Tent Vs Marquee - What's The Difference?
Read Count : 53
Category : Blogs
Sub Category : Miscellaneous
If you're looking to rent a tent or a marquee it can be difficult because of the myriad of options available when it comes to tents. Particularly when it comes to large events such as weddings The Bridal event organizers are spoilt for choice than ever there any shapes and sizes it has been designed to be unique to specific events so we'll look at marquees and tents and the options available.

A tent is generally defined as a portable, semi-permanent structure made of a material designed to protect people from the weather.

Tents made from natural materials such as leather have been around for many years. This types of traditional tents include bell tent, dome tent, fly, kohte, lavvu, loue, nomadic tents, nad pandal. They were designed to be used by the residents who lived in specific climates and construct by them out of locally available materials.

Modern tents have evolved and use materials like anodized aluminum for the frame which is a strong light and corrosion-resistant metal. The construction of these tents has also improved greatly over time to become more modular over time. The size of the poles has become standardized and the joints are also standardized so setting up the tent is a simple process of following the manual and simply joining the parts.

The older more traditional tents required specialized skills to construct. The tent cover of modern tents also uses synthetic material like vinyl because it is more available from the highly industrialized process of manufacturing it. It can also be cut into standard sizes and shapes using unsophisticated tools.

The types of modern tents available now include the traditional pole tent which has a standard frame to hold over the canopy but requires interior supporting poles for load-bearing and support.

The frame tent is a tent that is designed to carry its entire load on the poles that surround the perimeter of the frame so it does not need interior supporting poles. The advantage of this is that there's more optimal use of space because none is wasted when it comes to sitting space. It also provides a clear line of sight from any part of the tent to the front or the rear of the tent providing guests attending an event with a better experience.

The clear span tent does not have any poles across its span. It is pitched on a solid surface and is ideal for semi-permanent and permanent use just the way you would use a brick-and-mortar building. It is ideal for warehouses, zoos, and even hangers.

Marquees are large tents that have open sides and they also have categories. 

Traditional marquees

These are large tents with open sides and with the large poles that go through the roof to give it a shape and stability. You will find that it has peaks. The stability of a traditional marquees  is dependent on being staked into the ground which means that it needs soft grass or turf areas. This tent cannot be pitched on a hard surface such as paving.

Clearspan marquee

This is also a large tent with open sides but the difference with traditional marquees is that does not have interior support in polls giving it the advantages of a clear span tent.

Canopy marquees

This tent has a single high peak and is generally much smaller in size than the others. This marquees is ideal as a kiosk or a stall during outdoor trade shows and events.

Moroccan Marquees

This tent borrows a lot from the Moroccan culture and is ideal for hosting festivals. They also play a large role in wedding events. The tent design is strongly inspired by the Moroccan culture.

Stretch Capri

Is the tent that looks almost like it has an elastic canopy at the top. The poles are at varying angles with no particular design giving it a very unique look. They also have large side openings that is unique to marquees.

Dome Marquee

This is a marquee that is structurally similar to a sphere and looks like a crystal ball in structure.

So we have looked at the distinguishing features of marquees and tents and the characteristics and we hope that this article has been helpful.