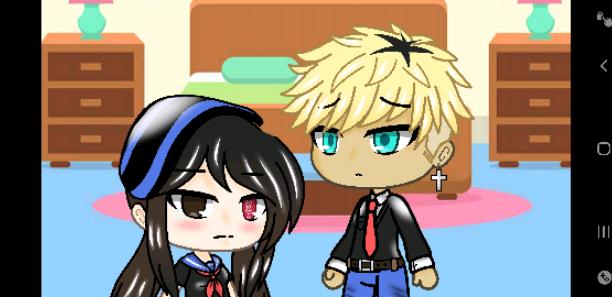 Ghost Eye (19)
Read Count : 22
Category : Stories
Sub Category : Drama
Tears

I still holding my scythe. Since it so long, I make sure that Patrick does not touch it.

I looking around Patrick's big room with a queen bed. Bah! I have a king bed in my home. And I love to brag myself how rich I am than Patrick is.

Me: Nice bedroom you have.

I commented then look at Patrick but not make eye contact. But I can see Patrick's disappointing face.

Patrick: Thank you. But we need to talk.

Silence grows slowly. I made the scythe disappeared. I really hope he does not say something that I hate to talk about.

Patrick: You know. When I first talk to you about ghost thingy. You left your locker open.

Wait, don't tell me that he saw my...?

Patrick: I saw your few pictures. You were so happy when you were little. I can tell from your pictures.

Silence.

Patrick: But right now, you are completely different. I heard from Iris that you don't have a family and you live alone in the middle of the forest. Does something happen to your family?

His words drowned me to darkness. My memories flashing in my eyes.

Patrick: Ah and about the eye patch, I saw the picture of one lady with a blindfold and one boy with an eye patch on the right eye. Why you hide your beautiful eye?

You don't understand. You don't understand. You don't understand.

Three words repeat in my mind.

Patrick: I know that you were sad but I really want to help you.

My lips finally found words.

Me: We...

Patrick: Yeah?

Me: We only know each other today. Not for years or months.

Patrick startled.

Me: Why would I tell you about my whole life if we barely get to know each other?!

My voice got louder. I feel the limp in my throat, my eyes got watery.

Me: Even with you! You never tell me about yourself either!

Patrick: I...

Me: Shut up! Shut up! Shut up!

Eventually, I screamed but not loud enough for everyone to hear.

Patrick stepped back.

Me: You don't understand! Oh, wait!

I looking at Patrick but not on his eyes. Patrick can see how much rage I have.

Me: Don't you the one who asked me to tell you about myself in Lunch?! Front of your friends?!

Patrick's lips zipped close.

Me: I bet you want to take me to spill the bean about Supirittoherupā thingy! Wait, you just faked it so you can mess with me!

Patrick shakes his head slightly.

Me: You just use me...

Tears fall out, down on my cheeks. My voice went down.

Patrick: No! I do not mean to...

I quickly wipe my salt tears off, put my eye patch on, then I zoomed out of Patrick's bedroom and run to the elevator.

I pushed the "1" button, I saw Patrick ran toward me. I pushed the "close the door" button immediately.

Doors closed slowly. But Patrick does not have time to push the doors open.

Elevator took me to the first floor. I ran and grabbed Kai's leg and screamed.

Me: I have to go. I will visit you when I have time, Momma!

Momma: Alright! See you later!

I ran and ran. Kai got confused but "ran" along with me. Neat land becomes long crowed trees. I panted but ran and ran. I stopped. I looking at a big mansion with nice trees.

Me: I'm back... To my home.

Kai watching my tears flowing.