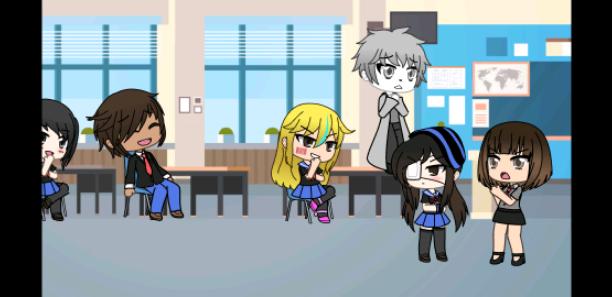 Ghost Eye (9)
Read Count : 35
Category : Stories
Sub Category : Drama
Miss Meeks V.S Me

Me: I think we need to go to class. We are late already.

I finally broke the silence between Patrick and me after his laugh silenced me. Patrick looked at me with a shocking face.

Oroka Patrick: What?! Why you do not say it until now?!

I shrugged my frown move up to a smile.

Oroka Patrick rolled his eyes then stood up quickly.

Patrick: I will come to see you, See ya later!

He said as he quickly walked away and waved me at the same time.

I shook my head then I turn around and walk toward my class, filled with idiots. My smile faded away.

As I opened the door and looked at my idiotic teacher. I expecting that she will yell at me in front of the entire class.

Miss Meeks: Well well well, what we have now.

She said as she nodded her head ironically. After tried to shake me down, I smile and nodded in the same way as Miss Meeks'.

Me: You have nothing.

I knew Miss Meeks since the first year of middle school. I am 8th grader now. Miss Meeks is a person who likes to humiliate outcast students and hang out with popular students. She even flirting popular boys, and Patrick is one of them. Dirty right?

Miss Meeks: Ah, right, You are a nobody and you admit it.

She laughs off on my face. I took a deep breath, I don't want in pain if I hit her then she would report me. I don't have parents. So it's will be in pain if she asks me about parents for a phone number or set up a meeting.

Me: You are wrong.

It's actually silenced Miss Meeks' wrecked laughter.

Miss Meeks: What?

Me: You do not deserve to have a clever student, So you got nothing from me.

I smiled. That's will hard if you try to push me down. All students gasped in unbelief.

Miss Meeks: Do you know that you can't say that to the teacher right?

She crossed her arms and stand up to make herself look taller. But I only 3 inches shorter than her. What's wrong with her?

Me: So what? You suppose not look me down like dirty. Or make out with 12 to 15 years old boys.

Miss Meeks take a step back. She hates when I mentioned something that not appropriate for teachers such as dating with non-graduated students.

Kai float slowly so I can see his "Are you serious?" face. I nodded as yes for an answer.

Miss Meeks: Why did you nod?

Wow, what sharp voice you have.

Me: So you can see how much I know about you.

I lied, I don't want her to know that I actually said yes to Kai the ghost.

Miss Meeks: Really? I can't believe that you try to bluff your own favorite teacher!

The way that Miss Meeks says is too cheery. I am not a cheery person.

Me: I did not even say that you are my favorite, but I will happy to show you a list of everyone that I hate.

Miss Meeks does not say a word. Just sound of her angry breathing. I grinned.

I hate to keeps look at Miss Meeks' shamed face. So I look around the class. I saw two students laugh while Iris smiled.

I sighed.

Miss Meeks: Still break dress code and hit Iris? You should back to 6th grade!

I got irritated but still stay a grin.

Me: Aw, your complaint is my favorite now.

I enjoying seeing Miss Meeks have a hard time to find a word to push me down. Almost there, very soon and I will drop the bomb!

Miss Meeks: What you mean?

Me: Back to 6th grade. I am 12 years old and I am the youngest 8th grader. You showed me that I am smarter than all students!

Be ready, Miss Meeks!

Me: And also, the dress code.

I pointed to Iris and another boy.

Me: Why don't you tell them that they also broke the dress code? They did that for three months, you should notice it. But you chose to ignore it. Why?

Miss Meeks shook up. All students in the class stopped laughed and froze.

Miss Meeks stammered, try to give me a reasonable excuse. I am not the kind of person that accepts excuses. If you do something wrong, just shut up and fix it.

Me: I do not want to hear your excuse, we wasted class time, you are the worst teacher ever I lived.

I said directly to Miss Meeks. I showed my left fist, threatened her that I can hit her any minute.

Me: Talk me down again, I will happily to report your boss all the things you did!

Miss Meeks was silent. Not say one word. I turn around then walked toward my desk that's which is far to last desk. Kai shook his head unbelief.

Kai: I can't believe that one teacher in the world is that awful...

I nodded slightly so students do not notice me. As I sat down my desk. I burst out laughing.

Miss Meeks does not realize it. EVERYONE hates me. Even Miss Meeks' boss.

So he wouldn't believe me if I tell him about what my teacher did.




Best battle ever I have!