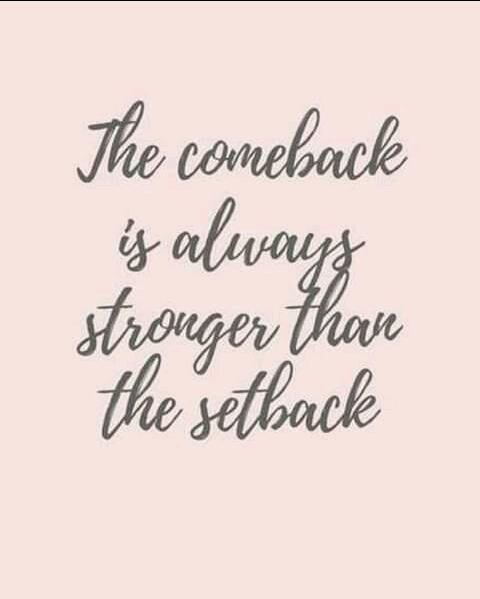 Whole - Part 4
Read Count : 67
Category : Blogs
Sub Category : Miscellaneous



The Comeback.... 




I confess I'm not a big fan of doctors, clinics or hospitals. Whenever I feel under the weather, I would self-diagnose my symptoms, go to my regular pharmacy, and ask for the medication for what I believe my ailment may be and then self-medicate. That is IF I even bother to pay them a visit. Most of the time, I would try to ignore the ailment and pretend that all is fine and hope and pray the aches and pain would simply go away. I know that is not the correct way to do things, but that's just how I am. I guess that is probably the reason why a normal case of the flu will take me forever to recover. 




As a kid I was more of a tomboy. Growing up with my uncle who was only two years older to me, he taught me how to be tough. We'd be climbing trees, climb the rooftop of my old house, and he'd drag me along to play football with his friends. From there, I began to get active in sports. Bowling, tennis, badminton, squash, track and field; I did them all. In my college years, there was talk about forming a women rugby team and yes, I tried out for that too. But because there wasn't enough funding and we couldn't get sponsors, that idea was scraped. Being an active person since young, I've had my share of tumbles and falls and all kinds of injuries. Did I bother to get proper treatment for the injuries? No. My motto was as long as there are no broken limbs and bones, as long as I can still walk, I'm good to go. 




Until those injuries came back in later years to bite me in the ass. Ouch! 




When I first started going for Cosmo Dr therapy, I was told that the medical device used in the therapy can help improve blood circulation, which is the root cause of all ailments. As I sat in the showroom day in and day out listening to the many improvements experienced by consistent participants, I felt a renewed hope. Maybe this therapy can help with my back and knee pain, I thought to myself. I wasn't taking any medications for my back, as for my knees, I was taking some herbal supplement, which kind of helped to relief me of pain in a small way. After going for therapy consistently for a whole week, I noticed that the pain in my lower back that was squeezing the nerve around my spine was gone and as for my knees, I was able to run up and down the stairs without even a pinch of pain. I was stoked! 




I shared the improvements with Lawrence and told him about the cyst the size of a ping pong ball on the right side of my back, a condition which I had been suffering from for fifteen years. I had gone to see two doctors in regards to the cyst and both doctors told me the same thing - I needed surgery. As I mentioned earlier, I'm not a big fan of doctors or hospitals so I have been putting off the surgery for years. On my fifth day of therapy, I noticed that the cyst hasn't been acting up, meaning I haven't been feeling any pain from it. I reached my arm to my back to gently touch the area of the cyst and immediately noticed that the size had reduced. Then on my tenth day of therapy, something unexpected happened. I asked my mom to touch the area of the cyst to check on the size and she told me the cyst was gone! Whaaaat....???? I couldn't believe my ears. I reached my arm to check it out myself and sure enough, there was nothing there. The good news is, the condition that I had been suffering for the past fifteen years was resolved without me having to go through the pain and hassle of surgery. The better news is, I saved some crazy amount of money. Yaaaay! 




Now, over a year ago I had gone to the optometrist to get my eyes checked as I realized that my eye sight was somewhat deteriorating. The optometrist was very thorough and he spent almost two hours checking my eyes, which he later informed me that both my eyes were pretty much fucked up. Each eye had different problems. I was told I needed multi-focal lenses. I had my glasses made that day and a week later, my new pair of "eyes" were ready for me to try out. No doubt, my vision became so much clearer, but it took me a week to get adjusted to my glasses. I was told to wear my glasses all the time to help with the correction that my eyes needed. I did as I was told and wore my glasses for a year. But on my 19th day of Cosmo Dr therapy, I noticed that my vision was blur. Thinking that my lenses were dirty, I took off my glasses to wipe them clean and then put it on again. My vision was still blur. I took my glasses off to give it another wipe and same thing happened - my vision was blur. I couldn't see Zuhri's face clearly even though he was standing just about two feet away from me. I took off my glasses and looked at Zuhri and his face was clear without my glasses. I was confused. The next day, I went to my optometrist to let him know about the strange occurrence. He gave me another check up and with a smile he said, "I don't know what you did or how you did what you did, but my dear, you don't need to use your glasses anymore." I was dumbfounded. I was told by Zuhri that the Cosmo Dr medical device can help to improve eye sight, but this...? I never expected this! 




Within the course of 20 days of Cosmo Dr therapy I saw impressive health improvements in me. My back and knees injuries were sorted out within the first week, the ever growing cyst on my back had disappeared completely, and my eye vision had been corrected. The only health issue I have left was my sleep disorder which I have been struggling with for the past twenty years. I heard a lot of stories shared among the participants who are and have been suffering from the same fate. Majority of them had opted for sleeping pills to help them through the night. I have never taken a sleeping pill in my life and it wasn't something I was willing to try. After 30 days of continuous therapy, that problem was taken care of. I am now able to sleep, which is a real joy.




I am very fortunate to find Cosmo Dr because I get to improve the quality of my life through this therapy which is provided to me for free. Even though the therapy is given free, the Cosmo Goodness company is NOT doing this as a charity. All I was asked to do in return was to simply spread the word to spread awareness on health care or preventive treatment, which is the future of the medical field. The objective of Cosmo Goodness Company is to build their brand so that it will be easier for them to penetrate clinics, hospitals and nursing homes in this region, just like what is already happening in Japan. I have benefited tremendously from this therapy and I personally feel it can benefit a lot more people out there. To help spread the word is such a small price compared to all the health improvements I have experienced. So, if that is all that I need to do as a favour for them, I will be glad to do it willingly. After all, at the end of the day, no one can put a price on a healthy life.