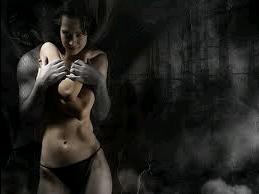 A Love Too Deep
Read Count : 18
Category : Poems
Sub Category : N/A
Fragile yet dangerous, she hides from you.

Watching you.

Waiting in the shadows.

She loves what we cannot love,

She sees what we cannot see.

 

 

She wanders in your recycled nightmares.

Scratching at the peeling walls of your soul.

Staying within reach but out of sight

In silent moments she touches your bleeding mind.

 

And there in that moment you remember...

You remember her as she was.

Pale skin soft to your touch,

The semi-sweet essence that was her

 

Intoxicating, overpowering...

Chained to her feet, like dog you stay loyal.

You see her lifeless body on that cold morning in July,

And then you feel her iron grip, still holding on...