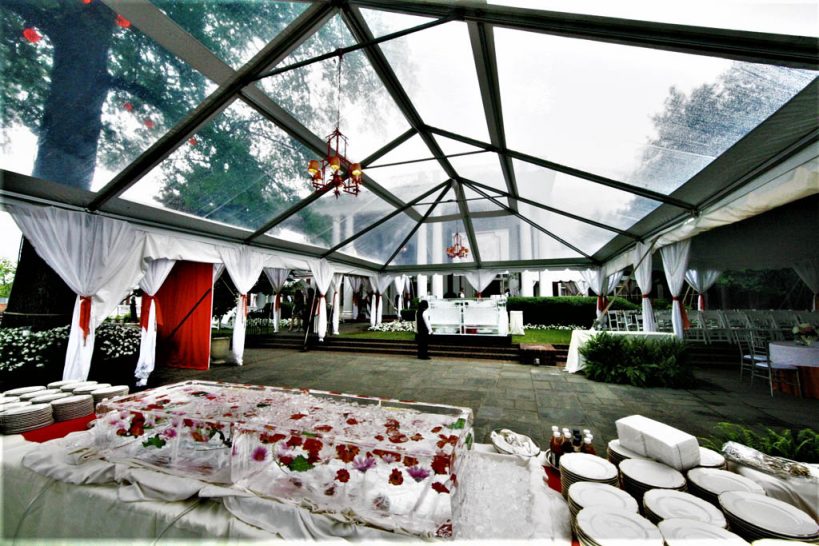 What Kind Of Clear Wedding Tent Do I Need For A Wedding?
Read Count : 34
Category : Blogs
Sub Category : Miscellaneous
Outdoor wedding planning is a popular choice during the spring and summer months, but scheduling your wedding around the weather can be quite nerve-wrecking. To keep your special day from being rained out or excessively hot shelter your guests from the weather with a clear wedding tent. Read on to learn what kind of tent you'll need for your outdoor wedding.



Choose a wedding tent for your big event


When choosing wedding tents, you will typically be looking at frame tents, pole tents or tension tents. Sometimes, choosing the right type of tent comes down to your personal preference. Other factors, include your budget, wedding appeal, and what your guests will like, may come into play.

Pole tents, the most common and least expensive choice, are lightweight, portable, and easy to install. These elegant tents have small peaks in the center and a downward sloping appearance, due to the high poles in the center of the tent and shorter poles on the outside perimeter. Since the poles must stake into the ground, this type of tent can't be used on concrete or gravel, according to the article of Renting a Tent for Your Outdoor Wedding: The Basics.

Tension tents offer soaring beauty, with sailcloth peaks and eaves that provide a dramatic setting for any daytime or nighttime event. The Century tension tent at Anchor Industries is our flagship tent, representing our dedication to quality at its finest. These large, engineered canopies come in a range of sizes and are an excellent choice for glamorous, upscale, red carpet events.

Frame tents are the go-to structure for versatility and reliability. Frame tents don't rely on staking for their structure. This makes them the optimal choice for setting up tents on surfaces like pavement, decks, or concrete. Unlike tension and pole tents, frame tents don't have center poles, allowing for an open and airy interior without any obstructions. The lack of poles makes interior decorating easy and versatile, which allows you to tailor the space to your customer's desires.



Choosing a Wedding Tent Manufacturer for your big event


Not every wedding tent is created equal. The quality of the tent or tents that you ultimately purchase will be dependent on the company that you choose to work with. Anchor Industries Inc. is a leading manufacturer with vast experience in the industry, and a proven record of creating the highest quality tents that exceed standards for durability, beauty, and practicality. Their tents range from small and highly affordable, right up to advanced designs that can make your job easier. You'll have the freedom to choose a tent based on the needs of your business and the budget that you have available.

Regardless of wedding tent prices, they put the same care and passion into every model that they create. From modest tents right up to fully walled modular wedding tents, you'll find flawless engineering and the absolute best materials. They set the bar for both quality and design
Their tents can help you to differentiate yourself in the hiring or event planning business. With Anchor wedding tents, you could gain an edge on your competition. With innovative systems like Navi-Trac, you can enjoy versatile products that are easier to set up and pack down. This increases the efficiency of your business and could help you to raise profitability.



Anchor Industries Can Bring Your Vision to Life with Beautiful and Durable Wedding tents


Their tents are made from the highest quality materials that ensure durability and simple maintenance. For hiring or event management, our tents will save you time and money when it comes to upkeep. Just as you strive to deliver exceptional services to your clients, you should also demand exceptional tents from a wedding tents manufacturer.

Leave nothing up to chance and instead insist on the best wedding tents from Anchor Industries.
Talk to their sales team today to discuss your needs and get recommendations for your inventory. From standard frame tents, track frame tents, pole marquees, and even small tents for DIY hire, they cover every end of the market. You'll be making a long-term investment with quality materials and engineering, and lasting beauty to provide the dream weddings that your clients seek. Anchor Industries is the name to remember when you a tent for your special day.