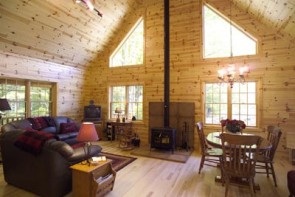 Now Is The Time To Buy Paneling And Log Siding On Sale!
Read Count : 4
Category : Blogs
Sub Category : Miscellaneous
If you're in the process of making plans for a log cabin, now's the time to stock up on paneling and log siding while it's on sale. Five opportunities are awaiting you at unheard of prices: 
•	Knotty Pine
•	Pre-finished Knotty Pine
•	White Pine
•	Pre-finished White Pine
•	Discounted Knotty Pine
•	Discounted Blue Pre-finished Knotty Pine
Check out these decorating ideas for Knotty Pine paneling in your cabin. 

Unfinished and Pre-finished Knotty Pine Provide Rustic Living

Knotty Pine is the traditional paneling used in log cabins. This tongue and groove product features end-matching for locking joints on both sides and ends. Save money and experience less product waste with our outstanding paneling. The current price is on $1.08 per sq. ft. 

Pre-finished Pine paneling is also tongue and groove and end-matched for zero-waste. The boards are sanded smooth and finished with a premium clear coat. Its furniture grade finish is smooth to the touch. We currently offer "WhiteWashed" Knotty Pine with two coats of clear added for a sealer coat. It enhances the wood character and brightens up a room. This style is commonly used on ceilings.

Raw and Pre-finished White Pine Are Premier Products

Premium White Pine tongue and groove with end-matching zero-waste paneling is on sale for only $1.20 per sq. ft. You won't find a better price anywhere. Buy it now in 1x4 sizes at 36% off regular price. It is also available in pre-finished condition for slightly more. 

Discounted Knotty Pine Can Save a Bundle

Dress up your great room, bedrooms, office, den, basement, or any other room with affordable discounted Knotty Pine paneling. Cover your walls with an ideal quality log cabin product at the lowest prices available. Note: All Blue or Value Line paneling is tongue and groove with end-matching for easy installation and zero waste. 

Do you want Cottage Grade paneling for only $0.81 a square foot? We have it as well as Blue Knotty Pine for $0.97 a square foot. If you prefer shiplap paneling, you can buy it for only $1.21 per square foot. Any of the Pine paneling options included above provide that rustic cabin look and feel that is desired by so many.

Log Siding Makes the Cabin Look Authentic

Don't miss the chance to order Pine log siding from 20% to 25% off the regular price. Shopping for log cabin wood products is fun and easy with the LogHomeShoppe.com. Find flooring, doors, beams, trims, molding, and more to match your paneling and siding at reasonable prices.