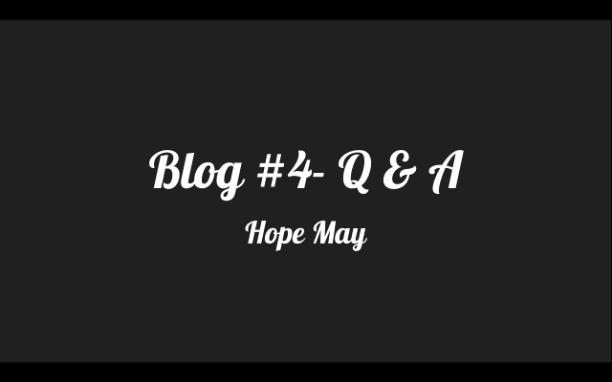 Blog 4- Q & A - Hope May
Read Count : 0
Category : Blogs
Sub Category : Self Help
Hello readers! 

First things first, I am glad to be back! I have been busy and have been experiencing some really bad lack of creativity flow for the past month. I now have a ton of preplanned stories that I think you guys will enjoy!

Now, time for some questions that I have and I want you to answer as well as some I have been asked.

My questions:
Do you like to read the chapter books? The chapter books section is were all of someone's parts of works can be stored, but normally when I go on I don't see a lot of views on some of the ones I've read. And, I've been wondering if you guys actually read them. (Not that I am like upset or anything nor am I asking you to comment on my chapters, just wondering if you read them. Last time I checked my writing, it didn't have any views.)
Have you been enjoying my writings so far? I know many of you may think I am doubting myself again, but I have overcome that and now I just want to write something entertaining while still being true to myself. When I write, I go into a whole other world of my own. I love to put my humor (though it is not very good which makes it funny) and my sassy-ness/sarcastic vibe to my writings. This keeps my writings (at least I think it does) fun, lighthearted , and entertaining.
A question I had been asked:
Can I collaborate on your writings? No, I am truly sorry but I will not allow anyone to help me with my writings. Like I said before, I have my own touch that I put in my writings and I love that because it makes me unique from the other writers here. I love that you want to collaborate with me and I do not want to shut down anyone's creativity. I absolutely hate being negative, but these are my works and this is my 2019 goal. Again, truly sorry.
~Hope May