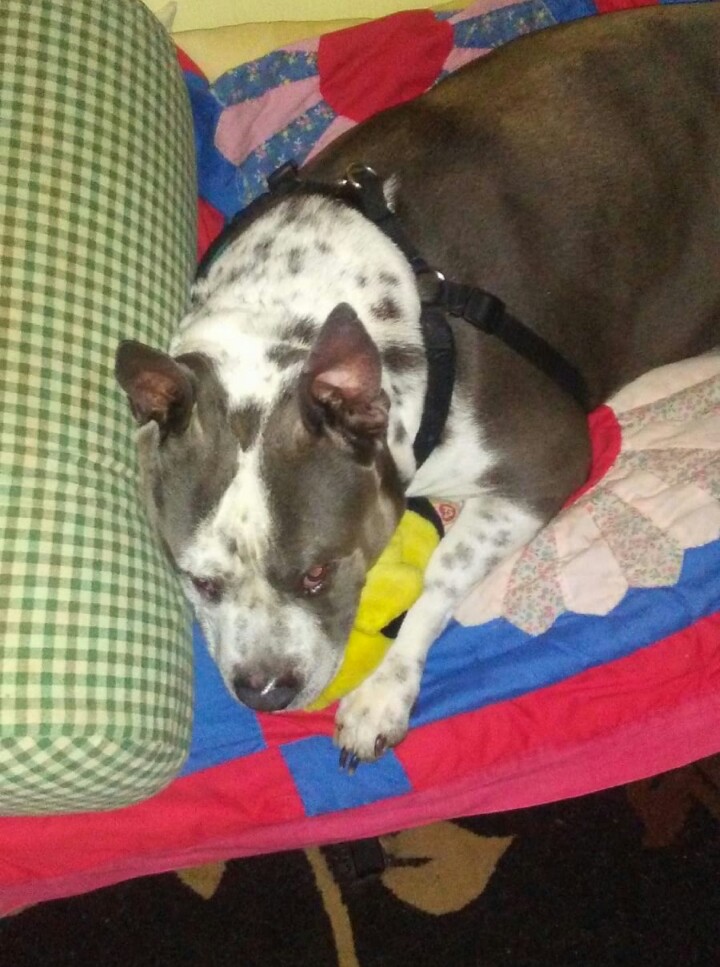 I'm A Good Boy
Read Count : 40
Category : Stories
Sub Category : Fiction
It was in the middle of night, I got a phone call from my Dad at Ohio, US. 

"Ben, your mom. She passed away. You need to be here as soon as possible, Son." Dad told me through a short conversation. 

I kept silence for a minute. I couldn't react or even act like a normal person when I heard that news about my mom. It's sadden me, all of me.

"I understand." I told my Dad.

I put my cell phone on my desk and sit on my bed. The air feels so cold here. I put my hands on my face, try to holding back my tears. 

Mom. I tried to call her name but the tears has come out on my cheek. I wasn't there for the final moment with her. I should have been there if I knew this would happen that fast.

Mom. I recalled out between tears and sobbing.

Suddenly my dog named Bit, a blue nose pitbull with mixed grey and white coat, jumped on the bed, put his chin on my thigh and wanted to snuggle with me on bed. 

"Hey Bit."

He was stretching his body before he snuggled on my bed. He noticed something happened with my voice so he woke up from his deep sleep and come closer to me. His eyes was looking at me and wagging his tail many times. 

What happened, Big bro?

"Bitso." I rubbed his head. "Mom passed away. I need to go back to Ohio to attend her funeral." I told him. 
What? Mom passed away?

He was whining but I know he listened and blinked his eyes twice like he understands my situation. 

"I can't take you with me even if I want to, Bit. You should stay here until I come back. I know you would obey, right, Bitso?"
I petted his forehead, his ears and chin and kissed him on his head.

You're going to leave me. I know. But I understand.

Bit changed his position closer to me and I rubbed his favorite spot, his back. "You're a good boy. Be a good boy for me, okay? I need to pack my bag now. Go back to sleep."

I'm a good boy and always will be.

I stood up from my bed, looking for my stuffs, my suits perhaps if I need to wear it at the funeral. I put it all in my backpack. I was ready to drive to Ohio with my car. I looked back and staring at Bit for a while. He didn't sleep, not even closing his eyes. He put his chin on his paw. His eyes looked sad and sleepy at the same time. 

"I'm sorry, Boy," I told him again.

I'm a good boy. I'm a good boy.

Bit would being here all by himself. I've been living with him for more than 6 years since Dad moved to Ohio. And when I leave town Bit would being alone so I need an extra help from a friend nearby to catch up on him. 

Well, Bit was trained to pee and poop outside the house so he always need to go out 4 times a day to pee and poop. He couldn't do it himself without a companion. So I texted Tom, my friend, because I trusted him and asked him a favor to take care of Bit while I was at Ohio at least for 3 days. He said he was agree with our deal.

Are you ready to go, Big Bro?

I patted Bit many times and told him that I'll be back soon. I poured his dog food in his bowl and filled his water bowl too. Then I put a duplicate key on my coffee table, one of my old habit before I went outside. I turned off the power to keep him safe here and I was ready to drive to Ohio. Expecting that Tom would be there in the morning. But he didn't. That man totally been lied to me. 

I could hear Bit was whining and crying in my house when nobody come to check on him, not even Tom. He used to be there as he promised me before but he didn't even come. I didn't have any friends to call to get help over there. 

Like Bit, I have no one though. Nobody wanted to be friend with me because of my height. I was taller than any other guys in my hometown. Plus since I was a kid I've been bullied physically and emotionally many times and nobody wanted to play with me. I remember when I was 5 I was hiding myself behind my dad's garage, cried alone. 

"Hey son, what happened? Why you cried?" Dad asked me when he found me all by myself, sobbing and my face turned red also like a tomato.

"I don't understand, Dad. Why they don't want to play with me? What did I do?" I told my Dad, expecting to get the right answer but Dad just wiped my tears and hugged me tightly.

"No, Son. Nothing's wrong with you. They don't want to play with you? I'll play with you. Or I'll get you a friend to play with."

"Really, Dad? A friend?"

"Yeah. A friend, Son. This friend will never hurt you. Will never make you cry. This friend will always be there for you."

"Can I see that friend?"

"You'll see that friend tomorrow after school."

I smiled to my Dad. It was a moment Dad gave me a dog. A blue nose pitbull named Bit. Bit was a newborn puppy when I first got him. Dad brought him home in his palm and gave it to Mom for her to see. Mom also a dog lovers like Dad.

"Oh my God, look at you! You are so small, tiny, little bit," said Mom when she held Bit baby in her palm. She was happy and smiling at us. I still remember that moment in my memory.  From that moment we got to name him Little Bit. We called him Bit until now.
--
I spent 4 days at Ohio after the funeral because I still have left things to do over there. 

I sat near a river, Mom's favorite place to go when she was depressed and wanted to be alone for a while. I had been thinking what would I do after all of this mournful feeling. Mom is gone. Dad insisted to stay at Ohio and didn't want to come to live with me. 

Suddenly I was thinking about Bit again. I tried to call Tom many times but he didn't answer my call. I'm so mad, depressed and very anxious in the same time. I knew Bit very well. He would be very lonely if I wouldn't be around. He would think I left him. He would be very sad right now because it was the first time I had left him alone. No lights or power, all by himself. 

So at early morning after visited the river to say my final goodbye to my mom, I decided to go home. Dad gave me mom's stuff, her scarf, for me to keep it. It has her smells which I'd miss forever. I put it in my backpack and drove back home. 

When I arrived at home, Bit ran and jumped into my lap. He was whining and licking my face many times. Giving me lot of kisses and love. I know he missed me so much. I could see he was so happy to see me again like I do too. 

"Hey Bit, I miss you so much. I'm sorry it took me 4 days to come home. But like I promised you, now I'm here," I told him.

I know, I know you will comeback here. I know! You never lied to me. I know. I believe you, Big Bro.

He smiled at me. Believe me he smiled. He was also  wagging his tail and giving me his back to rub and pat. 

"Alright, I know." I patted and rubbed his back until he was blowing at me. Then I smiled. How I miss this moment with him.
After got enough affection and attention Bit came into his food bowl and started to eat lot. I noticed Bit didn't eat his food for days. He just drank his water. He also pooped and peed in my house, the fact that Tom never come to check on him. Since that day I won't put my trust to human anymore.

So while he was eating I was doing chores and lot of cleaning with my house. After finished with chores and done eating my pizza roll that I also shared with Bit, I opened my backpack. I remember I put mom's stuff in it. One picture in frame of her I put it on my desk and her scarf.

"Bit." I called him while he was rolling on his own bed. "Come here."

He got up and walked toward me. I gave him mom's scarf for him to smell it. I know he was also missing Mom so much. He used to be so closed to her before she moved to Ohio with Dad few years ago. So let him smelling mom's scarf was like, let him to know the truth and for him to say goodbye to her. I believe he would understand.

"Hey, this is mom's scarf. Do you still remember her? She's in heaven right now."

Bit was wagging his tail and smelling the green scarf. After that his eyes staring back at me.

Mom? Mom? Mom?

"Yes. It has Mom's smell. So we both could feel her presence will always stay with us too." I put mom's scarf at the corner of my bed.

Bit walked into his toy's box under my bed, a box where I put all his toys in one place. He got his fish doll, his favorite toy, got up to my bed and put it at the corner of my bed near mom's scarf. He laid down near it and waiting for me to get a nap together. 
Let's go to sleep together. Let's go.

"Alright." I rubbed his back and kissed his forehead. We snuggled together on bed. That was how we fell asleep that day. 
--

Inspired by. Christopher Connell and Bit, his dog.