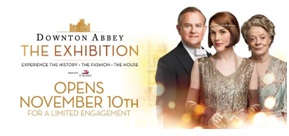 The Downton Abbey Exhibit, TV Show, And Movie
Read Count : 26
Category : Blogs
Sub Category : Miscellaneous
While Downton Abbey was first a popular television show, it is now a traveling exhibit and willsoon be a movie. Learn all about the Downton Abbey Exhibit, tv show, and movie below. 

•	Downton Abbey: The Exhibition – The Downton Abbey Exhibition is a traveling exhibit that brings the former television show to life. This exhibit features sets and costumes from the televisions series as well as history, culture, and more. This exhibit is currently in West Palm Beach but will be moving on to another location soon. Currently,you can find it at 575 South Rosemary Avenue in West Palm. When you buy tickets for the Downton Abbey exhibit, you mustbuy them for a specific time slot during which you are required to enter the exhibit so that everything works as efficiently as possible. Most people spend around 90 minutes in this exhibit, but you can spend as long as you like. The hours for the Downton Abbey Exhibition are from 10 am to 7 pm. Be sure to purchase your tickets soon before this exhibit moves on. 

•	Downton Abbey: The Television Show– Everything started with the Downton Abbey television show. This tv show which aired from 2010 through 2015, followed the lives of a fictional British family named the Crawleys. Set in the 1910s and 1920s,the show depicted how the events of that period impacted the Crawleys in post-Edwardian England society on their Yorkshire county estate. While Downton Abbey was comprised of fictional characters, the writers includedmany real historical eventsin the storyline. 

•	Downton Abbey:The Movie – In 2018, producers confirmed that they were turning Downton Abbey into a movie as a follow-up to the television series. You will be able to experience the movie for yourself in theaters in September of 2019. The film will have many of the same characters as in the television series, but not all the characters from the show will be there. However, you will get the opportunity to see new faces with the movie. 

If you want to experience Downton Abbey like never before, you should check out the Downton Abbey Exhibition in downtown West Palm Beach. It is a whole new way of interacting with a tv show you love and is a fantastic way to get you excited about the movie premiere in September of this year. Click here to learn more.