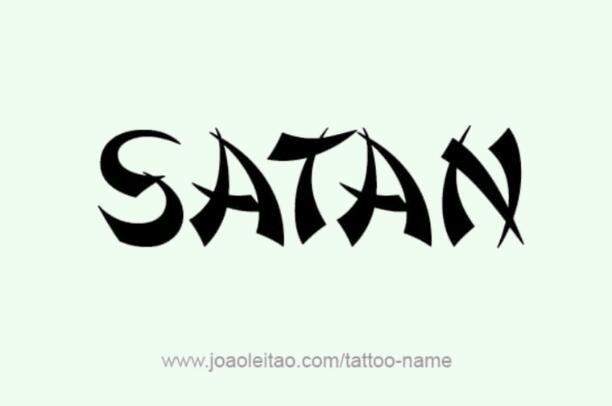 Trailer 1: SATAN & KRSHN
Read Count : 7
Category : Articles
Sub Category : Politics
I was all this days searching for a perfect all-rounder form of SATAN. I thought SATAN is a beautiful handsome cute guy who had the charm to lure anyone by his looks and also unmatched power to finish any type of enemy. Many said WHY YOU CONSIDER BEAUTY AND POWER? IS THE EXTERNAL BEAUTY EVERYTHING? CAN'T YOU SEE INTERNAL BEAUTY? IS POWER IMPORTANT? DON'T YOU NEED KNOWLEDGE? and so on. Questions might be many but the answer is only one thing SATAN IS SOMEONE WHO COMES NEXT TO ALMIGHTY GOD AND WHO HOLDS THE UTMOST CONTROL OF EVERYTHING AND NOT TO FORGET HE IS ALWAYS SURROUNDED BY BEAUTIFUL ANGELS, DAMSELS AND SO ON.




1) All this days I searched for a suitable form that could match him. I felt can JESUS in any way look like SATAN and found HE IS A PROPHET AND IS BEST SUITED FOR PREACHING PRINCIPLES. I felt can CHRIST become a SATAN and what I found is, HE IS A BACHELOR AND DOESN'T KNOW MUCH ABOUT LOVE AND SEX AND EVEN FROM ALL THE ANGLES CHRIST LOOKED LIKE THE POPULAR RELIGIOUS SAINTS LIKE MUHAMMAD, BUDDHA, GURU Nanak and so on, it means saints or more or else philosophers, and nothing else. 




2) Saint's can't fight and don't look good fighting and even in many books saints are considered as good holy man's who have nothing to do with the art of weaponry but can only assist a ruler about good and bad things and most importantly they need to respect ladies as mothers, sisters, which is really tough and if we can't follow those great principles and practices they do what is the point in making my hero SATAN wear the uniform of a Saint instead he would himself kill me for doing this type of serious offence. 




3.So I meditated and dashed my head to wall, scratched my head and felt SATAN is a person who cannot leave without beautiful ladies. GOD CREATED BEAUTIFUL LADIES BECAUSE OF SATAN AND I SHOULDN'T GO AGAINST GOD BECAUSE IF I CONSIDER SATAN A SAINT THEN IN FRUSTRATION SATAN WOULD KILL LOVE BECAUSE IF HE CAN'T LOVE THEN WHAT IS THE USE OF LOVE OR LOVERS, SO I FELT THIS SHOULDN'T HAPPEN BECAUSE SATAN IS KNOWN FOR HIS SHORT TEMPER AND IF HE LOSES HIS CONTROL THE EARTH WON'T STAY LIKE A HOUSE BUT WOULD TURN INTO GRAVEYARD WITHIN NO TIME. 




4) It doesn't mean he can't be a Saint but if there are so many beautiful ladies what is the use of staying as a Saint, some where or other that desire in him will arise. So I concluded CHRIST IS IN NO WAY FIT FOR THE POST OF SATAN AND EVEN IF CHRIST IS MADE A SATAN HE WOULD SHUN IT AND RUN AWAY FEARING WOMEN'S EXTORTION BECAUSE SATAN IS A MASTER AND KNOWS HOW TO CALM EACH LADIES WHICH SAINTS CAN'T DO. 




5) So I felt let's search for someone who has acquired mastery over everything and who would resemble my hero SATAN and whom have I found out, you peoples won't believe but I feel my hero SATAN matches a lot with this famous Hindu diety called LORD KRSHN. What amazed me the more is what ever I think about my hero SATAN this KRSHN has those qualities. 




6) I didn't knew that KRSHN had 16008 wives and for a moment I got confused IS IT POSSIBLE FOR A HUMAN TO STAY, LOVE AND MAKE 16008 LADIES HAPPY AND LATER ON LEARNT THAT HE IS A MASTER OF MAGIC AND PERFORMS ANY TASKS SO EASILY. For instance: if he points his figures towards sky it starts raining and when he was a baby he killed so many demons and fought lots of battle and through out of his life time he hasn't lost a single battle against anyone. 




7) Even it is written that the sky is blue and the space is black because of his colour and WHAT I FOUND IS EVEN MY HERO SATAN WEARS BLACK DRESS BECAUSE HIS COLOR COMPLEXION IS LIKE A MOON. Lots of similarities and I forgot religion, caste, creed and useless sects, societies and other shit things and what flashed to my mind is NOW AT PRESENT LET MY HERO SATAN BE THAT KRSHN BECAUSE HE IS HANDSOME, BEAUTIFUL, ENCHANTING, WOMANS MAN AND MANY MORE QUALITIES THAT ASTONISHED ME AND AT PRESENT LEAVING THIS PERSON NO OTHER PERSON CAN EQUAL OR STAND NEAR PERFECTION TO MY HERO SATAN. 




8) So I officially declare that for time being let my hero SATAN take his form and feel completed and as time passes I will see that is there any other best option than him. I don't feel that just because we are crucified in the cross of religion, it means that though we don't feel someone is complete we need to follow him. A girl loves lots of guys and finally selects the best and I also want my hero SATAN to be the best completely different and who has all the qualities which I want him to be Present. 




9) I don't care if anyone says the author is mad because in the coming future if world war 3 is fought, I don't want my hero SATAN to preach the principles as christ did. Because if humans were so cruel before 2019 ago and crucified that poor innocent JESUS and made me cry with the tears of blood, imagine what would the same condition be? If suppose my hero SATAN is like CHRIST, this humans would this time nail his entire body and I can't see that bitch scene once more, so I don't want my hero SATAN to be like CHRIST instead if he is like clever KRSHN somehow he had fought many classical battles and there is no more difference between classical and modern wars, only weapons have changed and I feel since KRSHN is a magician he can play with any type of weapon. Whether it is nuclear missile or ordinary atom bomb. 




10) I Want to see my hero SATAN fight like a fearless lion and hunt all the so called arrogant fox and dogs who have sat on the throne and have formed a government and are taxing us and leading a lavishing life without worrying about our welfare. ONLY A DIAMOND CAN CUT A DIAMOND AND NOT STONE OR GLASS. So for time period my hero SATAN resembles this hindu diety VISHNU and all the qualities of KRSHN is very perfect for my hero SATAN. 




From today onwards no one will say that my hero SATAN has some goat, buffalo or any useless head of other animals and even comparing or degrading my hero SATAN to any of those animal faced deities is strictly prohibited and will be considered as a serious crime of act and upon my hero SATAN'S arrival, this types of peoples will be rewarded with serious punishments.