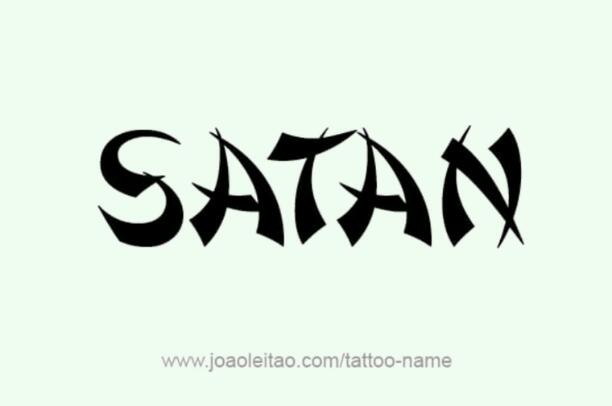 SATAN To Black Peoples
Read Count : 10
Category : Articles
Sub Category : Politics
Few fools in the world have problems. I agree racial discrimination is the biggest headache faced by many. For that why blame a legend who has rewritten the fate of this planet lot of times. No matter how ever harder a dog might bark still it can't become a lion. 




1) Instead of getting tensioned on all and speaking I'll about someone first we should look at ourselves. SATAN isn't a white people's devil nor black people's god, he is just a accomplisher of tasks and precisely a update provider for all the planets in the universe. Yes, it is true, he doesn't need us but that doesn't mean he dislikes humans. 




2) He has protected the human race from getting extinct lots of times as early as 7 million years ago when humans were ape like creatures. If he would have desired and wouldn't have stood as the shield, the forces of GOD were ready to destroy us at that time itself. The earth has completed 6-7 mass extinction and till now hasn't got damaged much and we humans have survived so long, how? When the earth got created we didn't have oxygen, then how life came into existence? 




3) Just because certain people are black doesn't mean they should also make their souls black. Is this the time this discrimination has started, No, it has started from generations and even black people were made slaves but today at least they lead some life of dignity and who knows in future things would change. You people from 2.5 million years have stayed on the earth but at that time there wasn't any racist problems, it occurred because of the supremacy. 




4) Your generation in the earlier time phase didn't respect your own people and became the reason for converting them into slaves. SATAN says it now because you people should know the real reason the reason behind all the racist issues is your own irresponsibility and the one who helped you all to become slaves to various white people around the world is your own tribal few black sheep's betrayal in your own community, they helped them because of the money they were offered by those white peoples. 




5) SATAN shouldn't say all this, because many unknowingly comment unwanted messages on those who aren't related to it in any way. Nothing is hidden from the mighty SATAN. Isn't it false that you people don't loot nor rob other innocent peoples on the road side. If you people have money problem go to work do something, if the white people don't give you job start your own business, try to reform your life, lead a ordinary person life and then see how long can white people hate black people or treat them badly. 




6) Even we have Indians, who are also black but I don't see problems in London or US. There everyone have their work and we even have Africans and still now nothing serious is seen. We even have lots of black actors and actress. If black people are treated badly in that place then SATAN says DON'T GO THERE, THE WORLD IS NOT Small, GO TO SOME OTHER PLACE. 




7) Once again it is a reminder SATAN isn't dead nor blind but is in rest, his timings is sure to come and let anyone sing that HE WON'T COME, I will sing HE WILL.  




8) SATAN doesn't discriminate colour and hates racist all over the world. This planet is meant for humans and not racist beasts, this planet is the house of humanity and will continue to be the house of ALMIGHTY GOD till GOD decides. 




My hero the mighty SATAN will definitely eradicate the racism all over the world. He is violent and uncontrollable when it comes to his task accomplishment and RACISM is also one of the case which would get closed permanently on the arrival of my hero, the mighty SATAN.




THERE IS NO OTHER OPTION BUT TO AWAIT. FOR THE SATAN AND IF RESISTING BECOMES IMPOSSIBLE, THEN GO OUT SEARCH FOR A SUITABLE PERSON OR DIETY AND GET YOUR WORK DONE AND 

                    FINALLY I FORGET WHY DON'T YOU PEOPLE USE THE SYSTEM OF GOVERNMENT, If the government can help you then you peoples don't even require a SATAN but will the government help you even when you people have your own peoples in the Parliament, seek their help and finally if no one helps you DON'T WORRY EVEN IF YOU PEOPLE CALL SATAN A MARTYR, HE WON'T MIND BECAUSE HE IS NOT IDIOT AND UNTRUSTWORTHY WORTH AS YOU HUMANS, HE WILL DEFINITELY REMEMBER YOUR PAIN AND WILL PUT AN END TO IT. 




VICTORY IN THE NAME OF GOD'S SLAVE WHO KNOWS NO FAILURE.