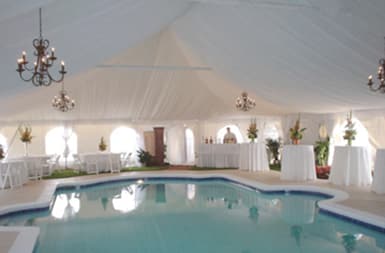 Tent Wedding Tips: 6 Tips For Outdoor Weddings And Tent Receptions
Read Count : 2
Category : Blogs
Sub Category : World
Weddings are fun for everyone! The bride and groom are, of course, excited for their big day and family and friends look forward to celebrating with them as well. There is excitement in the air, lots of memorable moments, and tons of fun and laughter! But before the wedding can be enjoyed by all, there is a lot of work that need to be put into the preparations. Everything from the dresses, the cake, the caterers, the venue, and more needs to be decided upon. Many people prefer to have their wedding and/or wedding reception outdoors, especially if the surroundings are beautiful. While this does provide an opportunity to make your big day unique, it also means you have to think about having a suitable tent or cover for your event so that your guests are protected in case of adverse weather. Tents can also beautify your space and make your wedding or reception even more special. 

But there are some things to consider when you decide to have an outdoor wedding or reception. Here are 6 tips to help you ensure that you pull off your tent wedding without a hitch.

Tip 1: Consider the weather. This is probably one of the most important things to consider, since it can dictate the type of tent you need. On a warm, sunny day a 30 or 40 foot wide tent can accommodate a wedding party, but if it's going to rain or snow, or if it is too windy, you may want to think about either having your wedding indoors, or getting a tent with wall panels and gutters and with waterproof material.

Tip 2: Keep elegance in mind. Once you have a suitable tent for your wedding, you can add small details to make it elegant. If there are any poles to hold up the tent, you can place planters and have green vines going up the poles to cover them. You can have chandeliers and/or lighting around the tent, and candles on tables to add to the atmosphere of elegance. You can also choose to have string lights and lanterns for a warm and intimate feel.

Tip 3: define your entrance. Tents are generally accessible from most places around the perimeter. But adding an entrance with beautiful curtains, some greenery, and other décor, can help guests to know where to walk through when they first come in. A defined entrance will also add to the ambience and provide an inviting atmosphere.

Tip 4: Add color. Unless you would like to stick to mostly white, you can make your tented space colorful by adding flowers in vibrant colors, a hanging floral installation, colored lanterns, and colored chairs etc. You can also choose to have a pop of color here or there with these elements.

Tip 5: Get creative. You do not need to follow any specific guidelines for how you want your space to look. Feel free to use design elements of your liking. Reputable companies such as Economy Tent International offer tents in many sizes, including their Marquee frame tent which is ideal for entryways or even to cover walkways.

Tip 6: Think about clear top tents. Using clear cover tents will allow you not to exclude the beauty of the outdoors. These tents are designed to let the natural beauty of the surroundings in, while at the same time providing overhead protection. Evening and night events can become truly magical with a starry sky overhead and beautiful lighting inside and around the tent. Economy Tent International carries a clear cover 30 foot wide tent, as well as many others in different sizes from a small 10 foot wide to a larger 40 X 100  frame tent and other sizes in between.

These tips will help you in selecting the best tent for your wedding party. Your wedding planning team can help you too. Remember, when it comes to tented weddings, the opportunities are endless, even when sticking to your design aesthetics. Contact Economy Tent International at 800-438-3226 for any assistance you may need in selecting the perfect tent for your wedding or reception. Our representatives will be happy to guide you.