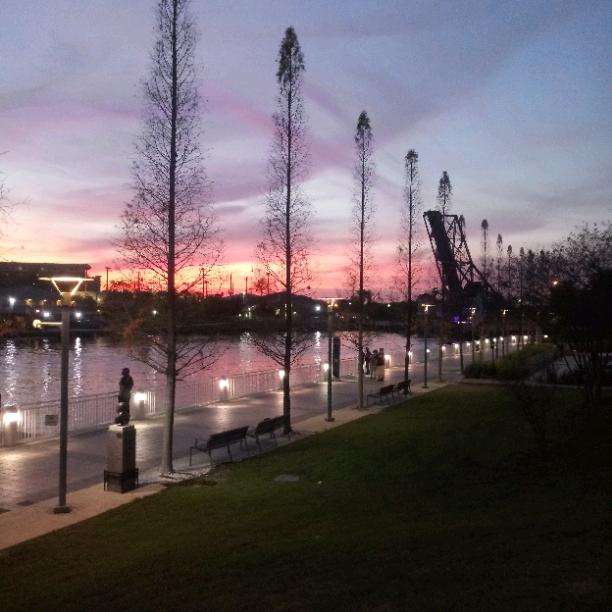 Master's Brush
Read Count : 2
Category : Articles
Sub Category : Spirituality
Who can match God in artistry and design? 




It's an easy answer: No one.




Tonight I turned the corner around the Riverfront Parking Garage and saw a sunset that literally stopped me in my tracks. It was so beautiful it startled me. The colors and depth of the sky was so majestic I was overcome with a sense of how small I am. I wanted badly to capture this moment. The whole sky seemed to go on forever, but i could tell the colors were moving fast towrds darkness. Immediately I pulled out my phone a snapped a shot, but when I looked at the pic I took, other buildings and trees were all in the way.




"I gotta get another angle on this." 




I took off at a jog down towards the Riverwalk watching the sky and the ground at the same time. It was no wonder I didn't break my neck on the way down there. My focus was locked on God's handiwork. It was all just so incredibly beautiful.. I was filled with a strong sense if urgency and hit the down ramp almost at a sprint.    




Once I made it to the river I quickly began to shoot some pics. I got down on one knee, flipped my phone this way and that, and at one point I even laid on my back. No matter how I tried though, my camera could not do it justice. I took several pictures and carefully set my shot, but looking at my screen and comparing it to what I was actually seeing in the sky only showed how small and insignificant were my efforts compared to God's awesomeness. 




A lovely young couple were passing by, his head bent towards here saying something close to her ear, and they looked over at me as I was once again getting up from the ground. When they noticed what I was doibg they looked out over the water and she gasped. "Oh my God. That is so beautiful!"

Agreeing with her I explained how it affected me when I saw it and what i was trying to do. I ended by saying, "The camera is an incredible invention and our ability to impose images onto the screen, how we can advertise and use images to convey messages has transformed our world in so many ways. But it is nothing compared to Him. I just can't capture it."




I ended by slipping my phone into my pocket and together we watched as the sun slowly made it's way down into the horizon. 




It was beautiful all the way down to darkness...