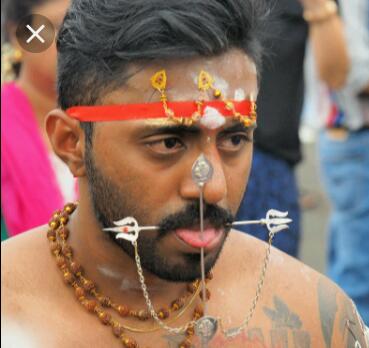 Category : Blogs
Sub Category : Travel
Hinduism is a minority religion in Malaysia. An estimated 9% of the total population of Malaysia are ethnic Indians, of whom almost 89% are practicing Hinduism. Indian settlers came to Malaya (Malaysia was once known as Malaya before we got our independence) in the late 19th and early 20th centuries. Many of these came to work as labourers on rubber plantations, while those who were English educated occupied more professional positions. Some of the major Hindu festivals celebrated here every year in a big way include Deepavali (also known as the festival of lights) and Thaipusam. 




Since today is the Thaipusam festival, I would like to take this opportunity to write a piece about it as this year I would like to write about the various festivals that we celebrate here in Malaysia. 




Over a million Hindus gather every year at various temples nationwide to celebrate Thaipusam. The exact date of this important Hindu event is based on the full moon day in the month of Thai (January/February) in the Hindu calendar. Thaipusam is a celebration dedicated to the Hindu deity Lord Murugan (day of his birth); the youngest son of Shiva and his wife Parvati. The celebration takes place on a grand scale at the Batu Caves (Sri Subramaniar Swamy Temple) just outside of Kuala Lumpur city. Besides the Batu Caves; Hindus also gather at Balathandayuthapani Temple or Waterfall Hill Temple in Penang, the Sri Subramaniar Swamy Temple in Sungai Petani, Kedah, and the Sri Subramaniar Swamy Temple in Ipoh, Perak. 




Thaipusam is the biggest festival for Hindus after Deepavali and usually falls in January or February. It is observed as a day of thanksgiving and paying penance for Lord Murugan. Thaipusam is a National holiday here in Malaysia. 




A week or two before Thaipusam, devotees prepare themselves for the occasion by cleansing their bodies through fasting and abstinence and usually observe a vegetarian diet. According to Suresh, a Hindu friend of mine whose father is a Sami (priest), during this preparation, devotees devote their life solely to their Gods. Apart from observing the strict vegetarian diet, other sacrifices are also made such as forsaking the comfort of sleeping on a bed. They would sleep only on a mat on the floor without pillows and would spend their days and nights making prayers. During this time, all worldly thoughts are blocked away, filling their entire being in worshipping their Gods. Many devotees began paying penance a few days before the actual festival with the carrying of the kavadi (a decorated structure bearing the image of several Hindu deities including Lord Murugan) on their shoulders and pal kodum (milk pots) carried above their head. 




The celebration at Batu Caves is an amazing experience for tourists. Yearly, over 10,000 tourists visit the celebrations at the caves. So if you happen to visit Malaysia during Thaipusam, be sure to check out the happenings at Batu Caves. Trust me, it will be an experience like you've never experienced before. 




Last Saturday night, Hindus gathered at the Sri Mahamariaman Temple located at the Chinatown area. It is there where they start their pilgrimage; carrying along with them the large statue of Lord Murugan in a procession. From the Temple they left around midnight on foot towards Batu Caves where they would arrive the next morning. In between the Sri Mahamariaman Temple to Batu Caves, the procession will make various pit stops along the way, stopping for prayers at various Hindu temples enroute to the caves. The procession would arrive Batu Caves sometime on Sunday morning. The long trip culminates in the flight of 272 steep steps to the cave entrance. It is said that well over a million people visit Batu Caves during Thaipusam, so if you plan to join in and witness the celebration, be prepared for a very crowded, hectic and sometimes even claustrophobic experience. 




When you arrive at Batu Caves on the day of Thaipusam, don't be surprised (or rather shocked) to see many people in trance. Some are seeing being carried by their siblings, wives, husbands or other relatives. Many men (and also the occasional woman) have their heads shaved at one of the many barbers outside the Temple at the caves. One of the aspects that make Thaipusam so interesting is the way devotees pay penance to Lord Murugan. Some pierce their skin, tongue or cheeks with Vel skewers. Some hang multiple hooks on their body while being pushed forward in the crowd. Some have many small hooks pierced on their backs with small decorations attached. All of these devotees are unaware of their surrounding whilst in a trance. Some can be seen dancing uncontrollably, waving their arms wildly. It is a sight to behold but it is not for the faint of heart because some of the piercings are pretty gruesome. An interesting fact about the trance and piercings; when their bodies are being pierced by spears or hooks or skewers, the devotees do not feel any pain and they do not bleed. It is said, according to Shanti, another Hindu friend of mine, that when they are in a trance, their physical being is taken over or possessed by whichever God or Deity they pray to for that occasion. For example, say someone has had a very good fortune in their business, that is the time where they 'give thanks' to the Gods for their good fortune by carrying the kavadi or by shaving their head or by piercing their bodies. Of course, these piercings are done by the Sami at the temple in Batu Caves, a religious ritual that is done in the accompaniment of prayers. But guess what, after the day is over and after all the prayers done and penance paid, the devotees will come out of their trance and that is when they will feel the pain of the piercings. And yes, when the spears, skewers and hooks are removed from their body, they do bleed. 




To close this piece, I would like to take this opportunity to wish Happy Thaipusam to our Hindu writers.