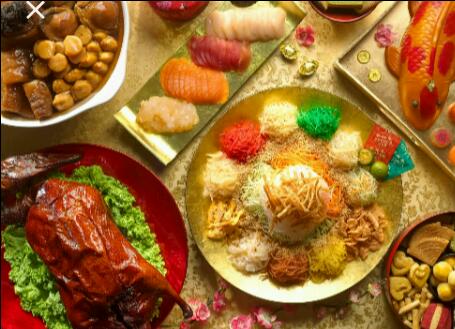 Chinese New Year - Part 2
Read Count : 6
Category : Blogs
Sub Category : Miscellaneous
The biggest event of Chinese New Year's Eve is the reunion dinner known as 'Nian Ye Fan', an event where family members gather for a celebration. The venue will usually be in or near the home of the most senior member of the family where the dinner spread is very large and sumptuous and traditionally includes dishes of meat (namely pork and chicken) and fish. Most reunion dinners also feature a communal hot pot - a Chinese cooking method, prepared with a simmering pot of soup stock at the dining table, containing a variety of East Asian foodstuffs and ingredients. While the pot is kept simmering, ingredients are placed into the pot and are cooked at the table, in a manner similar to fondue. Typically, hot pot ingredients include thinly sliced meat, leaf vegetables, mushrooms, wontons, egg dumplings, tofu, and seafood. The cooked food is usually eaten with a dipping sauce. Hot pot is believed to signify the coming together of the family members for the meal. And typically, eight individual dishes are served at reunion dinners to reflect the belief of good fortune associated with the number. 




Like many other New Year dishes, certain ingredients also take special precedence over others as these ingredients have similar sounding names (in Chinese) with prosperity, good luck, or even counting money. Below is a list of food items typically found during reunion dinners, along with its description and significance. 




Buddha's Delight

An elaborate vegetarian dish where a type of black hair-like algae (pronounced "fat choy" in Cantonese), is featured in the dish for its name, which sounds like "prosperity" (in Cantonese). 




Chicken

Boiled chicken is served because it is figured that any family, no matter how humble their circumstances, can afford a chicken for Chinese New Year. 




Apples

Apples symbolize peace because the word for apple, 'ping' (in Chinese) is a homonym of the word for peace. 




Fish

Is usually eaten or merely displayed on the eve of Chinese New Year. The pronunciation of fish, 'yu' makes it a homophone for 'surpluses'. 




Leek

Is usually served in a dish with rondelles of Chinese sausage or Chinese cured meat during Chinese New Year. The pronunciation of leek, 'suan miao' or 'da suan' makes it a homophone for 'calculating money'. The Chinese cured meat is chosen because it is traditionally the primary method for storing meat over the winter (in China) and the meat rondelles resemble coins. 




Jau Gok

The main Chinese New Year dumpling for Cantonese families. It is believed to resemble a sychee; the old Chinese gold and silver ingots (a piece of relatively pure material, usually metal, that is cast into a shape suitable for further processing), in which it represents prosperity for the coming year. 




Jiazi

The common dumpling eaten in northern China, also believed to resemble sychee. 




Mandarin Oranges

A common fruit during Chinese New Year, where its name, 'ju' and 'ji' (both pronounced gik) is the homophone of the word 'luck'. 




Melon Seed

Other variations include sunflower, pumpkin and other seeds, symbolize fertility and having many children. 




Niangao

Chinese New Year pudding, made of glutinous rice flour, wheat starch, salt, water, and sugar. Its pronunciation is a homophone for 'a more prosperous year'. 




Noodles

Families may serve uncut noodles (making them as long as they can), which represents longevity and long life, though this practice is not limited to the new year. 




Yee Sang

Raw fish salad. Eating this salad is said to bring good luck. I will write a separate post on yee sang tomorrow because of the uniqueness of this dish. 




Well, there you have it, my second part of the Chinese New Year installment. If you noticed from what I have written in these first two parts, it is evident that the Chinese culture is rich with, bound to and proud of their customs and traditions. Modern society may look upon this as old-fashioned and outdated, but I personally feel it is a good practice to carry on with the traditions that had been passed down from generation to generation. It helps to keep people grounded to their roots. 




With that said, this is me signing off at this wee hour of the morning, till we meet again tomorrow for part 3 of my Chinese New Year installment.